These great water parks will surely give you something to look forward to this summer.
Sometimes a day at the theme park gives you more than thrills, enjoyment and family fun. It can also bring sore feet, sunburn, and a new level of cranky even for your brood – but not so much at a water park, however.
Water parks offer coaster-like thrills, family rides, and lots to do for the little ones, without some of the headaches that can come with a day at the amusement park.
5 Must Visit Water Parks on Hot Summer Days
Here are five of the country's best water parks guaranteed to help you beat the heat on a hot summer's day.
#1 Dollywood's Splash Country
Thirty-five acres of exciting water slides and relaxing water rides have earned Dollywood's Splash Country a spot on the Travel Channel's list as one of the best water parks in the United States.
Splash Country offers summer fun for all ages. Get your heart racing on Tennessee's first and only water coaster, RiverRush – or relax and cool off on the Downbound Float Trip, a slow-paced lazy river dotted with interactive children's play areas.
Splash Country's location in Pigeon Forge, at the foot of Great Smoky Mountains National Park, also makes the park an especially attractive family destination.
Regardless of the size of the group, many visitors to the area choose a Pigeon Forge rental cabin for their stay – for their spaciousness, their fully equipped kitchens and amenities such as hot tubs, arcade games and entertainment features – all perfect to keep the kids of all ages occupied while the elders take a rest on the deck and gaze at the mountains, or get ready to visit the nearby attractions.
#2 Disney's Typhoon Lagoon
When you need a break from the long lines and the hot sun of Disney's other parks in Orlando, Florida, cool off at Disney's Typhoon Lagoon. The tropical oasis-themed park is home to North America's largest wave pool, with 6-foot swells that make for some exciting body surfing!
Enjoy thrill rides like Crush 'n' Gusher, a tube-slide 400 feet long, with lots of twists and turns – or relax and unwind in the shade of your own private Beachcomber Shack.
Animated playful elephants, squirting seals, and fun-loving crocodiles make Ketchakiddee Creek the perfect playground for the little ones, with scaled-down slides, waterfalls, caves, and water cannons.
For some cool relaxation, take a ride on Castaway Creek, the continuous 2,100-foot long lazy river that passes through gentle waterfalls and lush rainforests as it circles the entire park.
In total, Typhoon Lagoon has six separate areas — Mount Mayday, Hideaway Bay, Typhoon Lagoon, Shark Reef, Castaway Creek, and Ketchakiddee Creek — each one offering its own unique experience.
#3 Water Country USA
Close to Busch Gardens, Colonial Williamsburg, Yorktown Battlefield, and Virginia Beach, Water Country USA is one of the most popular water parks in the United States and the largest water park in Virginia.
With abundant accommodations of all kinds in the area, Water Country USA offers fun for the whole family with over forty state-of-the-art water rides and attractions.
Relax on a trip down the park's lazy river or share a thrill with the entire family on Big Daddy Falls, a whitewater rafting adventure with crazy curves, dark tunnels, big drops, and a few super-soaking cannon blasters along the way.
Experience family-friendly 4-foot waves at Surfer's Bay, the water park's wave pool.
Three separate areas for smaller park goers — Cow-A-Bunga, H2O UFO, and the Kritter Korral — feature splash zones, scaled-down water slides, a heated kiddie pool, and lots of water cannons.
If your kids are old enough to roam free, the park has plenty of ways to relax and beat the heat with available lounge and cabana rentals located throughout. Water Country USA even has flat-rate monthly passes that offer unlimited admission.
#4 Holiday World and Splashin' Safari
Located in Santa Claus, Indiana, and with many unique accommodations close by, the family-owned Holiday World and Splashin' Safari Water Park rank high on both the TripAdvisor and USA Today's lists of top water parks in the country.
Part of the combined Holiday Word & Splashin' Safari family attraction, the water park features two wave pools, family water slides, and lots of play areas for children.
Splashin' Safari also lays claim to fame as home to the world's longest water coaster – the Mammoth. The third-of-a-mile long Mammoth coaster reaches seven stories in height and covers more than three acres.
The Mammoth's round-shaped rafts hold six passengers, so there's usually enough room for the whole family. But remember, because of the round shape, somebody will be facing backward.
The adjacent theme park, Holiday World, boasts the country's only launched wing roller coaster, the Thunderbird Steel Roller Coaster, and the nation's top wooden coaster (as named by Time magazine in 2013), the Voyage.
Holiday World and Splashin' Safari also host many shows and seasonal events throughout the year, and as the location suggests, especially at Christmas. Live entertainment includes fireworks, concerts and high-dive demonstrations, as well as special events at Halloween, and Santa's Storytime every day of the year.
#5 Splash Lagoon Indoor Water Park
With the largest wave pool in the Eastern United States and a thermostat set to a toasty eighty-four degrees, the indoor Splash Lagoon water park brings in visitors year-round.
The sprawling water park in Erie, Pennsylvania has seven water slides, a lazy river, and several family whirlpools. The five-story Tiki Tree House features twelve levels of activity, most of them involving getting yourself or others wet!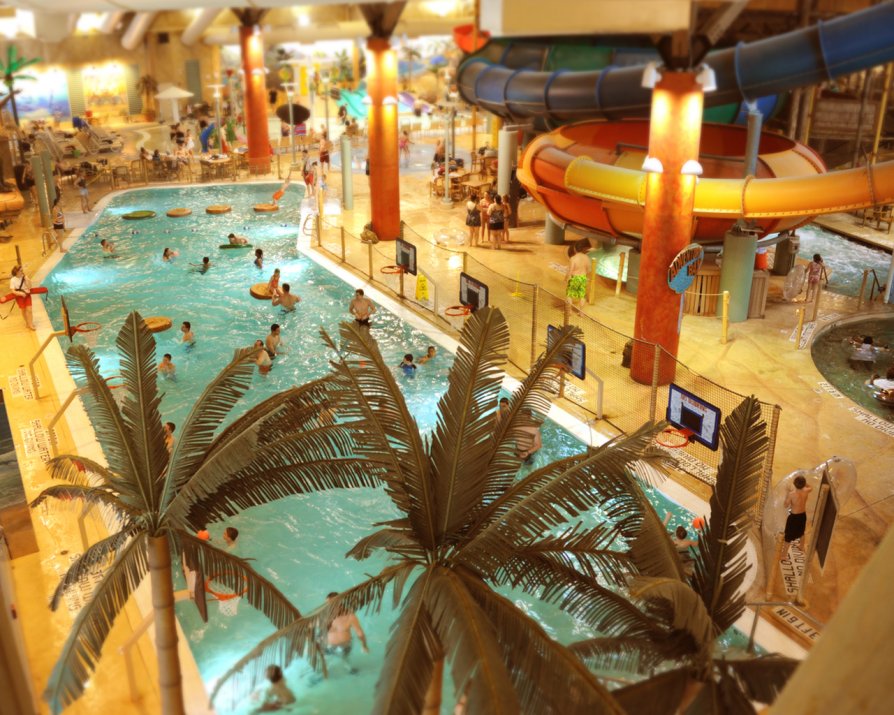 If you prefer to stay dry, relax in a rental cabana by the Wave Pool, or explore the water park's huge arcade – 6,000 square foot and packed with games.
There's also the Tree Tops Ropes Course, laser tag, and an immersive holographic game environment. Splash Lagoon also makes celebrating that January birthday a snap with party packages for a variety of budgets. If you can convince your boss that a day at the water park makes for excellent team building, Splash Lagoon also hosts Corporate Outings.
Finally
If you are looking for a fun summer vacation trip, plan a stay close to one of these amazing water parks to cool off during those hot summer days.