Back in September 2015, Stephen surprised me with THE best birthday present ever. He bought me a 2014 Ford Fusion. Since getting that car, we have taken numerous trips and with every mile down the road, I fall more madly in love with my vehicle.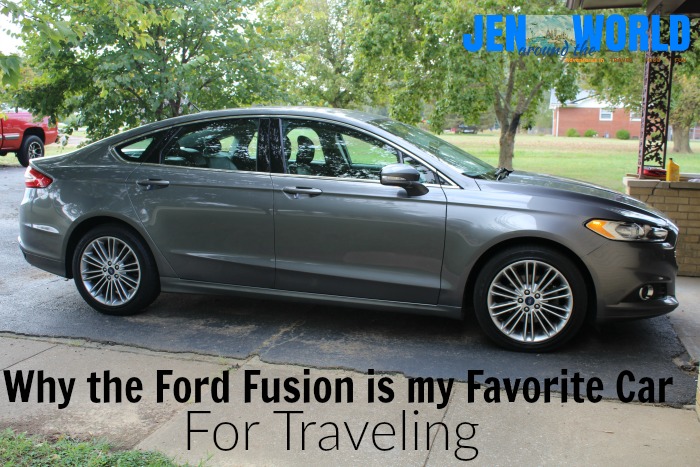 I have been looking at this style of car for about 2 years, and I was not real sure if it was what I wanted or not, but after testing this one, a Hyundai Sunata, and a Kia Sedona, I knew without a shadow of a doubt this would be the one that would win my heart.
Why I Love the Ford Fusion for Traveling
For starters, I love this car because of the gas mileage. I have never had a car before that got over 20 miles to the gallon. This car gets up to 25 miles to the gallon in the city, but 37 miles to the gallon on the highway.
Knowing that I can travel to many places far away and not have to spend an arm and a leg on gas is simply a wonderful refreshing thought for me.
Stephen and I are planning on traveling to Greenville, South Carolina in a couple of months for a few days and I am SO excited about it. We will be able to drive and ride in style.
Another thing I love about this car is that it has all leather interior, which makes it so much easier to keep clean.
Since getting the 2014 Ford Fusion, I have been able to keep it cleaner than any other vehicle I have owned — and it is all because the seats and the whole interior is leather.
I also love that because they have leather seats, the front seats have built in warmers. Sometimes all I need to keep warm is to simply turn on the seat warmer and I am immediately comforted in a cozy warm environment.
This car is SO sleek and easy to navigate that I can see me driving this completely across the United States.
When we went to Gulf Shores this past fall, we took this car and we were able to stuff 5 large suitcases, a dog cage, some groceries and more in the trunk.
The next time I am headed out on the road, I will be sure to jump in my 2014 Ford Fusion and letting the wind whip through my hair as I travel to my next fun destination.
And the hubby and I have already decided that when our loan is up on this one, we will be upgrading to the newest Fusion during that time.
What is your favorite vehicle for travel? Have you ever driven the Ford Fusion? What are your thoughts about this sleek ride?