This past week, I was watching Food Network and I saw these yummy pizzas that the Pioneer Woman was making. I decided to give it a whirl and see just how quick and amazing it was — and as always, those recipes deliver! I tried my hand at making my own Fresh Mozzarella and Pesto French Bread pizza and it turned out SO good.
Really this supper needs 4 simple ingredients — homemade pesto, roma tomatoes, fresh mozzarella cheese, and a hoagie roll that can be used for a pizza crust.
Fresh Mozzarella and Pesto French Bread Pizza #15minutesuppers
Ingredients
2 hoagie rolls, split
jarred or homemade pesto
2 roma tomatoes, sliced
fresh mozzarella sliced
salt and pepper
Instructions
Take the hoagie rolls and split them. Slather on the pesto sauce.
Top each with slices of fresh mozzarella
Slice a roma tomato and place them on top of the cheese.
Season with salt and pepper and broil under the broiler for about 5 minutes until the edges of your pizza crust are golden brown and the cheese is melted.
Enjoy!
Simply slice your bread and slather on your pesto. If you don't want to take the few minutes it takes to make your own pesto, then you can use a jarred pesto, but I love making homemade pesto — and it tastes so good. You can find that recipe that I use by clicking HERE for homemade pesto.
Once you slather on the pesto, top it with slices of fresh mozzarella cheese.
If you use the block mozzarella, it will NOT taste the same. Seriously — buy a ball of this cheese, or better yet, when you have some free time, make your own 🙂 Kayla and I made homemade mozzarella cheese (just click that link for the recipe) and found out just how easy it is.
Now — top your delicious pizza with slices of roma tomatoes, salt and pepper.
Place it under the broiler for about 5 minutes until the bread gets crispy and the cheese gets ooey gooey and melted.
Remove from the broiler and enjoy! A quick and delicious dinner is never more than 15 minutes away.
Need more quick 15 minute recipe ideas? Check out these other great #15MinuteSuppers!
Follow 15 Minute Suppers on Facebook | Twitter | Instagram | Pinterest
and look for the #15MinuteSuppers hashtag too!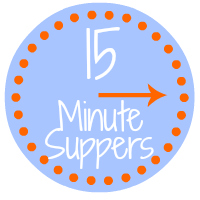 BLOGGERS: Would you like to join us at #15MinuteSuppers? We'd love to have you! Please check out the 15 Minute Suppers website or ask to join the Facebook group (for bloggers) to participate on Fridays…we'd love to have you join us.