This post contains affiliate links. All opinions are 100% my own.
I have been a long time user of FreshBooks — ever since I started taking on clients while working from home. I use FreshBooks to record the time spent on projects, bill clients, track my expenses, and more.
I just got an email that they have updated FreshBooks, and it has an all-new look and TONS of new features — which I am totally psyched about. Don't believe me? Check it out here for yourself!
FreshBooks has been my one and only tool for years. I've tried out others, but honestly, none of them are as good as FreshBooks.
What is the all-new FreshBooks?
The new FreshBooks is more than just getting an upgrade to the look of the site(which I am a huge fan of!) The all-new FreshBooks has been rebuilt from the ground up exclusively for the self-employed professional, like you and me!
All the features I already use like sending invoices, logging expenses and tracking time—these have all been enhanced to make my experience easier, faster and modern.
And now, you can even enjoy seamless collaboration with your team by sharing files, keeping tabs on invoices and getting paid quickly… all in one place.
Here are some of the new features that I am super pumped about!
Create and send professional looking invoices in less than 30 seconds.
Set up online payments with just a couple of clicks and get paid up to 4 days faster.
See when your client has seen your invoice and put an end to the guessing games.
Now, I will be honest with you — I wasn't for sure that I was all too happy about them getting rid of Paypal payments, but now that I have checked out the FreshBooks payments, I am a happy girl!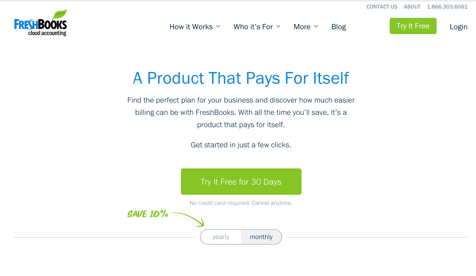 I have been wanting to get rid of Paypal because of the fees. Now, my clients can pay their invoices and when they do, FreshBooks payments will deposit it right into my bank account! This change alone is huge and will help save money in the long run for me.
They Also Offer Double Entry Accounting
This new system in FreshBooks allows you to share your financials with your accountant in a format they prefer, which is by double entry.
"Double-entry" means there are always two entries for each accounting transaction. One is a credit; the other is a debit. For example, if you buy a new laptop for your business, the double-entry system will track the purchase as a credit for the cost and a debit for the new asset you now own.
Is Double-Entry Accounting for Everyone?
I can answer this one for you — no. For example, I am a one-person freelancer and I do not have a lot of expenses. The features I use the most are invoicing, time-tracking, project management and reporting functions of FreshBooks, so for me, I don't have to use the tools.
But for someone who needs a bigger picture in their business, then double entry accounting is for that perfect person, and all FreshBooks Plus and Premium customers automatically have access to double-entry accounting.
QuickBooks Enterprise Hosting Solutions is another cloud-based accounting system that uses double-entry accounting which is worldwide standard for business accounting. Whether it is FreshBooks or QuickBooks the most important thing about these tools is that they easily integrate with Microsoft Office 365 Business Premium suite which enhances the overall productivity of accountants. Learn more about Hybrid Office 365 Migration.
The all-new FreshBooks has really made major improvements over the years and I am super pumped that I have stuck with them. These new improvements are going to really help me to reach my goal of making a six-figure income by 2020!
Interested in Trying Out FreshBooks for Yourself?
You can sign up for a free trial of FreshBooks and see what you think about it. I promise if you do, you will love it as much as I do! Click here to get started.