This shop has been compensated by Collective Bias, Inc. and its advertiser. All opinions are mine alone. #RealFlavorRealFast #CollectiveBias
During the hot summer months, we love getting outside on the grill cooking cooking. Not only does this allow us to create delicious recipes like my Grilled Garlic and Herb Pork Loin with Parmesan Roasted Potates, but it keeps the heat down in the kitchen during our hottest days.
Our most recent recipe for Smithfield® Roasted Garlic & Herb Marinated Fresh Pork Loin Filet served alongside delicious Parmesan Fried Potatoes which is the perfect combination for quick and easy 30 minute summertime meal
This meal is delicious and so easy to make in every single way. The reason for that is because I don't worry about trying to marinate meat. I use Smithfield Roasted Garlic & Herb Marinated Fresh Pork Loin Filet. The marinade is already in the bag, so all you have to do is pop the loin out and either put it on the grill or cook it in the oven.
Because of the marinade in the bag, that means no extra prep work for me. Plus — it leaves me with real flavor, real fast so I get to spend less time preparing and more time relaxing with my husband and kids.
While shopping at Walmart, I headed over to the meat counter and discovered all the delicious flavors they have available –Smithfield Slow Roasted Golden Rotisserie Flavor Pork Tenderloin, Smithfield Slow Smoked Mesquite Flavor Pork Loin Filet, Garlic & Herb Filet and Applewood Smoked Bacon Loin Filet.
I mean, just look at those juices and herbs on that loin filet. Smithfield Marinated Fresh Pork is made from 100% fresh pork and has no artificial ingredients which mean I know my family is getting really good food.
My mouth is already watering — and I cannot wait to share with you my side dish that went along perfectly.
Garlic and Herb Pork Loin with Parmesan Fried Potatoes
To make my side dish — it's really simple. Just dice up 3 russet potatoes and place them in a cast iron skillet with 3 tablespoons of olive oil and 2 tablespoons of butter.
Season them liberally with salt and pepper. Then you just let them cook, turning several times to get that delicious brown crunchy crust. Cast Iron Skillets are THE best skillets for fixing fried potatoes in — and they are the best pans for being used out on the grill.
While the potatoes are cooking, you can make your Parmesan Sauce for them. You need garlic of course.
Then, once you get it chopped up, simply place it in some olive oil along with dried parsley, and then set that aside.
This is my favorite part of cooking right here. Lately, my husband has been coming into the kitchen to chat with my daughter and I while we are fixing dinner.
We chat and laugh about life (not pictured is my son who always seems to be playing basketball when I snap photos) — and we have the best time just laughing together and cooking. That is one of the greatest things about hanging out in the summer — you get to slow down from the hustle and bustle of life and spend time doing the things you love.
Once the potatoes get all the way crispy and brown to your specifications, then drizzle on the olive oil and garlic mixture and add in your dried parsley flakes.
Mix everything together and then give it a couple of minutes to let the garlic cook.
While your potatoes are cooking away, your grill should be hot enough now. You can throw that beautiful pork loin right on the grill and let it cook away. In less than 30 minutes, you will have the most amazing dish you ever tasted! The pork loin is juicy and full of flavor.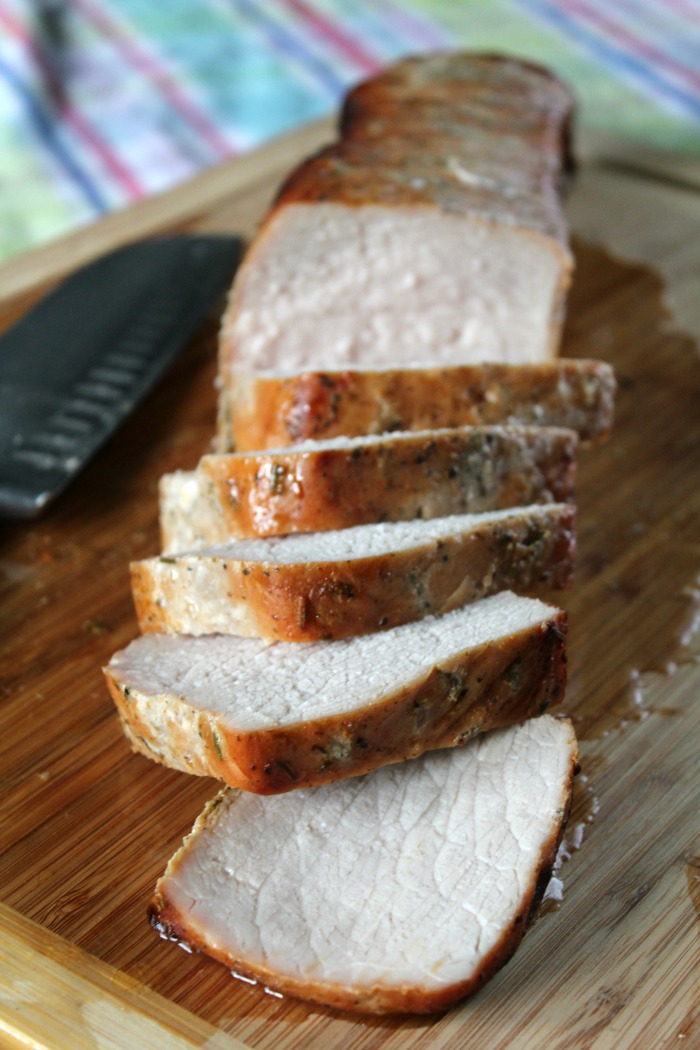 Hero of the Grill Contest
Make sure to check out the Hero of the Grill Contest and Sweepstakes at SmithfieldGetGrilling.com where you can share and nominate who inspired you to get grilling for a chance for your hero to win $5,000! Not to mention you can enjoy great grilling content and enter for a chance to win prizes EVERY DAY!
Here's a tip of mine when you are cooking pork — Cook your pork to 150 degrees F and if you do this, you will always have juicy and tender pork chops, pork loins, etc.
Garlic and Herb Pork Loin with Parmesan Fried Potatoes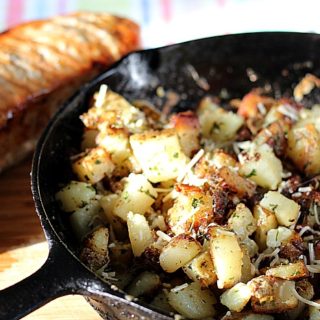 Ingredients
Smithfield Roasted Garlic & Herb Marinated Fresh Pork Loin Filet
3 Russet Potatoes, diced
3 tablespoons of butter
3 tablespoons of olive oil
3 cloves of garlic, diced (+ 1 tablespoon of olive oil)
parsley for garnish
Parmesan Cheese for Garnish
salt and pepper to taste
Instructions
Preheat grill and cook the pork loin according to package directions. This should only take about 15-20 minutes.
Take the diced potatoes and place in a cast iron skillet with the olive oil and butter. Season liberally with salt and pepper and cook until potatoes are cooked through and crispy and brown.
Throw your garlic, olive oil and parsley on top of the potatoes and mix around. Then top with shredded Parmesan Cheese and serve alongside your sliced pork loin filets.
Enjoy!
Smithfield Marinated Fresh Pork is available at Walmart! If you are interested in grocery pick up, check this link out here.
Connect with Smithfield