I LOVE popcorn. It is my favorite snack in the whole world. I've always just eaten my popcorn with butter and popcorn salt, which is great, but ever since that one time I went to the Nestle test kitchen and had spiced popcorn, I crave different flavor tastes now all the time. My newest favorite is Garlic Parmesan Popcorn.
This popcorn recipe is very savory and each bite you take will lead you back for more. I promise.
Popcorn has been so much of my childhood. I can remember when I was younger, my mom and I were hooked on Days of our Lives on television. The year that she quit work was one of the best because every afternoon, I would literally run home from school so that I could lay in the floor with my mom and our big tin bowl of popcorn while we watch Marlena and John, Bo and Hope, and Jack and Jennifer. Yes — I was a die hard soap fan back in my younger days.
When I heard about Franklin's Gourmet Popcorn and the fact that it was GMO free, I decided to try it out.
There are three little pouches on each pack and you just snip the tip, pour all three into a pot to cook on the stove and you end up with the most amazingly delicious popcorn you will ever taste. My family has even said it tastes just like movie popcorn.
Now — you can eat it just like this, or bump up the flavor like I did.
To do that, you will need —
You basically make your yummy Franklin's Gourmet Popcorn, then melt the butter and mix it together with the rosemary, garlic salt, and Parmesan Cheese and then pour it over the popcorn.
What you get is this out of the world, over the top, popcorn.
Garlic Parmesan Popcorn featuring Franklin's Gourmet Popcorn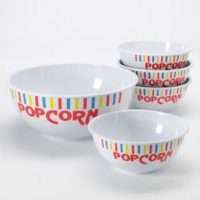 Ingredients
4 tablespoons butter
1 teaspoon of garlic salt
1 teaspoon dried rosemary
4 cups of popped popcorn
1/2 cup freshly grated Parmesan cheese
Salt, to taste
Instructions
In a small saucepan, melt the butter over medium-low heat. Stir in the garlic salt and dried rosemary. Once the butter is melted and heated through, remove from the heat and set aside.
Cook your popcorn according to package directions.
Pour the butter,garlic, and rosemary mixture over the popcorn and gently toss. Sprinkle Parmesan cheese over the warm popcorn. Season with salt, to taste.
About Franklin's Gourmet Popcorn
Franklin's Gourmet Popcorn is a delicious organic popcorn portion pack that can be cooked in your popcorn machine or in a pot. The pre-measured pack includes popping corn (organic, non gmo, gluten free), seasoning, and 100% coconut oil. Its pre-measured for a perfect pop every time. Makes delicious popcorn that tastes just like the movies!
This would be SO cute to serve in these popcorn serving bowls:
Seriously — if you are going to serve snacks to your family, make sure they are GOOD snacks. Franklin's popcorn is both organic and GMO free.
What about you? How do you like YOUR pocorn?