This is the year for me that I said I was going to make some big changes — and over the past couple of weeks I have really started doing that. It started last week when my husband and I went to Gulf Shores. I just decided that I am truly sick and tired of always saying —that's something I will never try or never do. So many cool things have happened to me over the last week — and it got me to thinking about something.
We pretty much let life determine whether or not if we enjoy something. If life whispers at us that this world is dark and scary, we hide away in our homes and in our little towns and we miss amazing sights like this —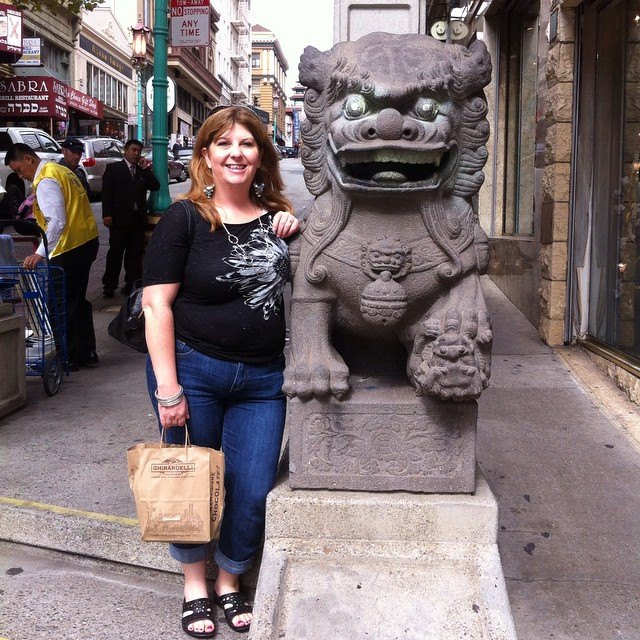 This week I have been in San Francisco, and while I could hide away in my hotel room and be scared to death because I am in a HUGE city — and barely know anyone, I decided to venture out with my blogging friend Angela. We took the cable car all the way to Chinatown — had an authentic lunch and it was AMAZING!
I am just not sure that I want to sit back anymore and let life dictate to me what I can do. Fear has always been such a big part of my life. I have written about it many times. But I am so dang tired of being afraid.
Afraid I might get attacked.
Afraid I might get lost.
Afraid that so many things can happen to me.
Like I have said many times before. I am tired of being led by fear. Fear causes me to miss out on SO much of all the fun that life has to offer.
I took a cooking class with a real chef and impressed him with my own knowledge of cooking. Yes — this little KY woman showed him I knew a thing or two about my knife skills and my palette!
Honestly ladies — I truly think we all need to stop being so afraid and just get out and have some fun every once in a while. Yes — this world is crazy big, and yes — sometimes bad things happen to good people, but to be honest — I am SO not letting it rule me any longer. I am done with kind of living.
There is too much fun stuff out there just waiting to be discovered.
Like this gorgeous beach my husband and I got to experience a couple of weeks ago.
So what are you letting fear keep you from? What fun thing have you been wanting to experience? Just go out and do it!!!