I received a review screener for Gigi & Nate in order to write this review. All opinions listed are 100% my own.
I sat on the couch last week and watched THE BEST feel-good movie I have seen in a while. If your family is not doing anything this Friday, make plans to go to the movies and see Gigi & Nate.
Let me tell you about this amazing movie.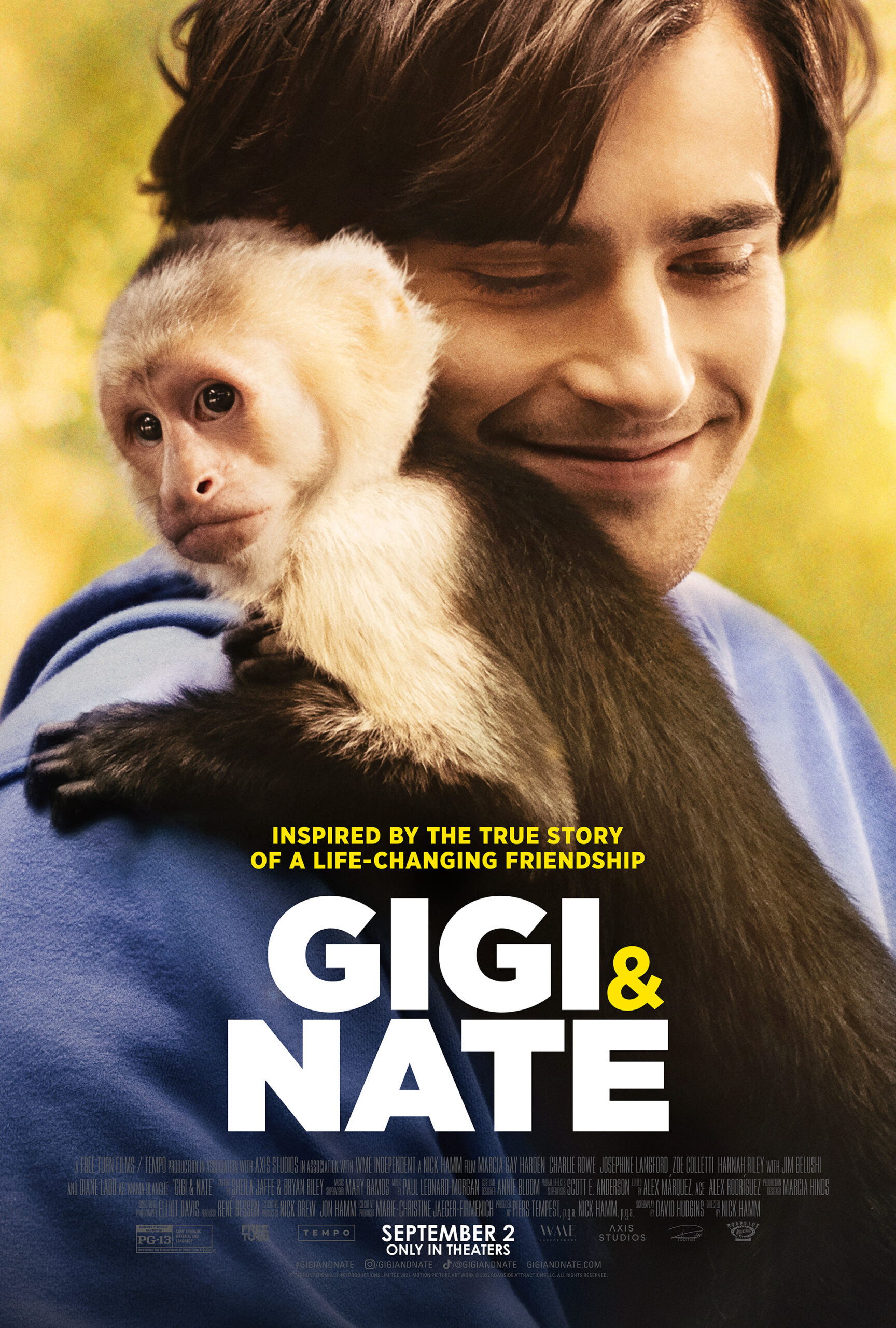 About Gigi & Nate
Nate Gibson's life is turned upside down after he suffers a near-fatal illness and is left quadriplegic. Moving forward seems impossible until he meets his unlikely service animal, Gigi – a curious and intelligent capuchin monkey – who helps Nate find what he needs most: hope.
The film is based on true events and has a star-studded cast– Marcia Gay Harden, Charlie Rowe, Josephine Langford, Hannah Riley, Zoe Colletti, Jim Belushi, and Diane Ladd.
Jen's Thoughts
Never did I think that I would fall so head over heels in love with a movie as I did with Gigi & Nate. Nate's story was so inspiring to me — to never give up, to keep fighting, and to find a way to find the good in everything.
I have always had a heart for capuchin monkeys, but after watching this film, I'm even more in love with them. They are so smart and I had no idea they could be trained to be service animals. Such an inspiring movie of love, faith, and determination!
One thing for sure I learned from watching this movie is that I will in no way be jumping in any water without holding my nose first! I had no idea that you could get that kind of injury from jumping in. Lesson learned quickly!
I hope that you all will take the time to go watch this movie. It is not a faith-based film, so it does have a couple of cusswords in it, but other than that — it is AMAZING!
Enter to Win!
One lucky reader is going to win a 3-month subscription to Pure Flix! Leave a comment below and let me know if you like capuchin monkeys. The winner will be chosen on Sept 7th, 2022.