This shop has been compensated by Collective Bias, Inc. and its advertiser. All opinions are mine alone. #PureLife35pk #CollectiveBias
Last weekend, my best friend Michele and I hit the road for a girlfriend's getaway. If you have never been on one before, let me just tell you — you are missing out. This trip was exactly what I needed with how crazy life has gotten recently. Of course, going on a trip like this — there are a few things you don't want to leave home without. I promise you — they will make the trip even more memorable.
8 Things You Need for a Perfect Girlfriend's Getaway
#1 The Need for An Adventure
Michele and I are lovers of adventure. She is my crazy friend that I can count on who will go the extra mile to have a good time, and she is ALWAYS up for a trip with me anywhere.
The best thing is — she is free most of the time, so when I have the need for a fun adventure, I call her up and we hit the road.
#2 Snacks and Water
I am not one for gas station snacks. For me, they are way overpriced, so I shop beforehand and stock up on Nestlé® Pure Life® Water bottles and a few snacks for our road trip.
Walmart has this new 35 pack that is exactly what I needed for this trip. Our drink of choice between the two of is water, so we drink ALOT — and this one 35 pack lasted all weekend for us. It's the same as the old 32 pack, but you get 3 more bottles!
If the 35-pack of Nestle Pure Life is not available in your local Walmart, please ask a store manager about getting the product in your area. If you purchase online, you will only be able to get the 24 pack, so be sure to visit your store where you can grab the 35-pack.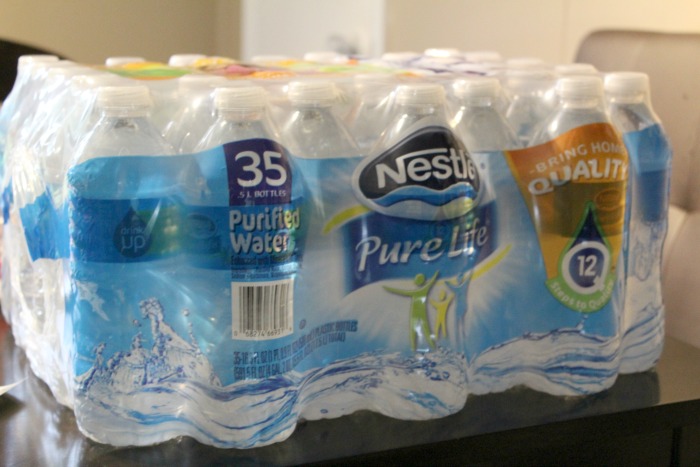 By taking this with us, we only had to pull into the gas station to fill up and use the restroom, saving us time and money on our fun weekend getaway.
#3 Laughter
You must bring along your need for laughter. On this trip, we laughed SO much my stomach muscled actually hurt! It felt like I had been working out for days.
We didn't only laugh like this just once, but several times. Oh — the joys of laughing continuously with your best friend.
#4 The Ability to Eat
If you go on an adventure with me, you already know that food is going to be involved. We ate SO much over this weekend. Not one time did we stop at a fast food joint. We made sure to visit all kinds of local to the area food joints. The ambiance was wonderful and the food was simply fantastic.
#5 Lots of Shopping Money
Our main goal on this trip was some antique shopping for new food props for my food blogging. However, one thing I learned on this trip — be sure and pack some cash and don't just rely on my debit card.
The town we visited was a step back in time and many places we visited only took cash or check. Lesson learned — and thank goodness for a friend who carries more cash than cards.
#6 The Love of Talking
We stayed at a Bed and Breakfast — one of my very first times doing this and found it to be a refreshing take on the local motel or hotel.
A B&B offers you the option to sit on a big front porch and talk to other guests about the area as well as the owners. Of course, you will never catch Michele and I without a bottle of water in our hand — even when we are on the front porch or sitting in the kitchen talking with the owners.
#7 A Pair of Good Walking Shoes
The town we visited had a town square full of eclectic new shops so we put on our favorite comfortable shoes and hit the pavement visiting shop after shop after shop.
You don't want to be caught wearing uncomfortable shoes with a lot of walking to do. And– make sure you hydrate before doing a lot of walking — especially if it is warm. Staying hydrated will help you be able to walk longer and spend more time acting goofy together!
#8 A Camera
You definitely need to make sure you have camera on hand whenever you are going on a girlfriend's getaway. You want to capture the moment and all the fun you had over your weekend.
Now that you have my 8 things I cannot live without when I hit the road for a girlfriend's getaway, let me hear your items. What can't you leave home without?
Be sure and hit Walmart and stock up on Nestle Pure Life 35 pack of water for your next road trip! Pure Life is re-launching in mid-May and will have new packaging, so be on the lookout for a refreshed packaging from Nestle this upcoming May at a store near you!
Where are YOU headed?