This post has been compensated by Modern Mom on behalf of Eggo. My Berry Butter on top of these new gluten free Eggo waffles makes for a most delicious breakfast and I cannot wait to share my recipe with you! All opinions about the product are 100% my own.
I am a waffle lover. I love pancakes, biscuits, and I especially love waffles. There is nothing like filling up each of those little squares with butter and syrup –yummy!
BUT — when your stomach starts rejecting one of your favorite foods like mine has been doing lately, you cry and say goodbye to your delicious waffles — or do you?
I haven't had a waffle in forever, that was until just a couple of days ago when I found out that Eggo now has Gluten Free waffles. Now — I know — every time when you hear the word Gluten free you think cardboard, dry, and tasteless right? But these waffles are DELICIOUS — and I honestly could not even tell they were gluten free.
Eggo Gluten Free waffles come in two flavors — original and cinnamon and both are equally tastefully. They contain 8 vitamins and minerals for a healthy and nutritious breakfast.
For me, these waffles give me back one of my favorite breakfasts ever. I am a waffle lover and I will be the first to tell you that they do not taste like cardboard at all.
Just two waffles are only 170 calories too — which helps you watch your figure (and they are also a good source of whole grain). My tummy has never been happier.
But what makes these waffles so delicious is my  berry butter! Here is how to make it —
start with just two simple ingredients — the berry of your choice and 1 stick of REAL butter (do not use that margarine stuff please).
Make sure your butter is room temperature and then blend in your mixer until well combined.
Then top your waffles with the butter and more berries!
These are so good with the butter that you won't even need the syrup!
Eggo Gluten Free Waffles are available at your local grocery store for around $3.39 per package. If you have a gluten intolerance you can rejoice that you can now have a very delicious waffle breakfast once again.
Gluten Free Eggo Waffles with Berry Butter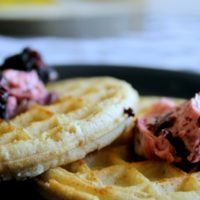 Ingredients
1/2 cup of your favorite berries, strawberries, blueberries, blackberries, raspberries, etc
1 stick of real butter
Gluten Free Eggo Waffles in original or cinnamon flavor
Instructions
In a stand mixer, cream together your butter and berries on high speed until combined.
Spread on top of your favorite gluten free Eggo Waffles for a delicious breakfast!
What is your favorite way to top your waffles?