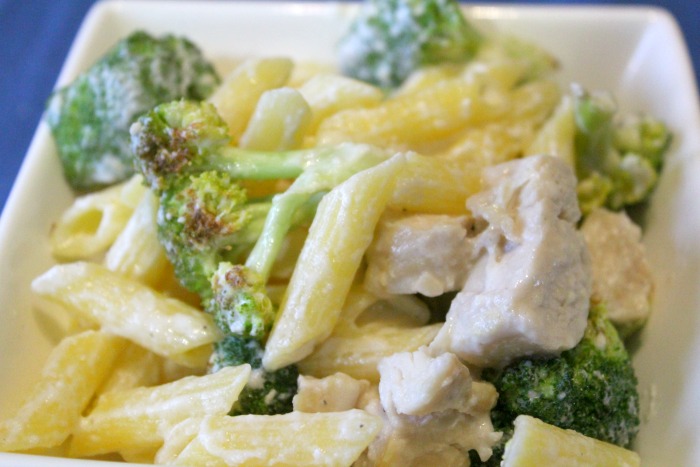 This shop has been compensated by Collective Bias, Inc. and its advertiser. All opinions are mine alone. #WonderfulYourWay #CollectiveBias
One of the things that my husband and I are doing this year is eating healthier. Since Valentine's Day is coming up soon, I wanted to create a meal that is both romantic and better for us — which is how I came up with this dish for Gluten Free Skinny Chicken Broccoli Alfredo.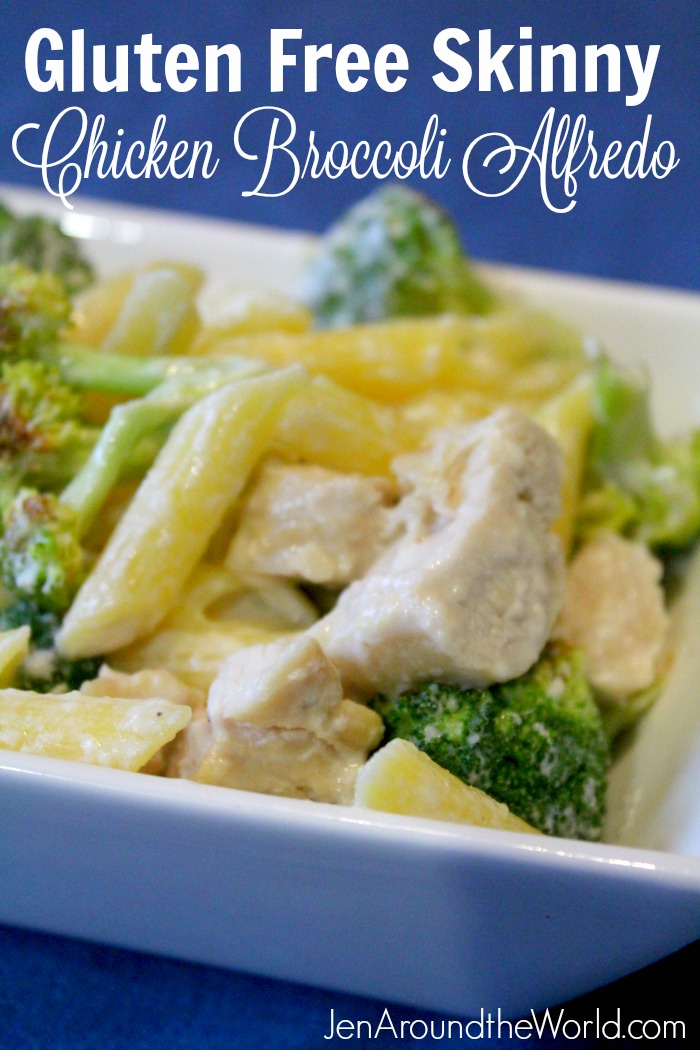 What makes this dish over the top is the Barilla® Gluten Free pasta that I picked up at Kroger yesterday. I am usually not a fan of gluten free anything, but Barilla has taken it over the top and this certified gluten free pasta is absolutely delicious — so good that it does not even taste like gluten free pasta.
While at Kroger I also picked up a box of Barilla ProteinPLUS spaghetti for another night at home. Barilla ProteinPLUS has 17g of protein per serving, which is something my husband wants to eat a lot of while he is trying to eat healthier.
For the alfredo portion of this sauce I skipped the heavy creams and tons of butter and added in greek yogurt as the base and it made this sauce taste simply amazing!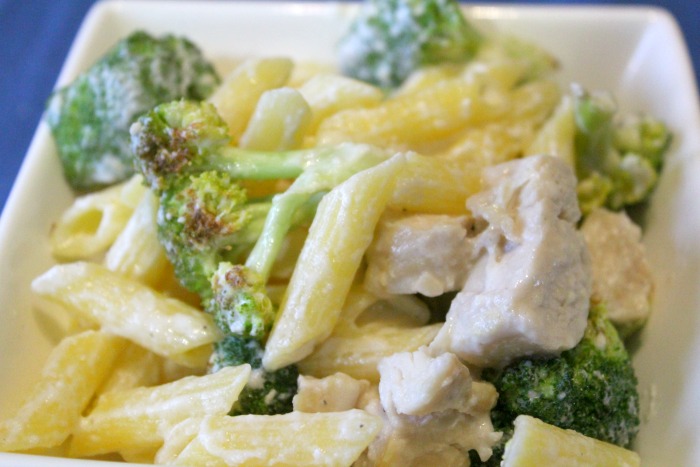 So here is how to make this super amazing dish. You will have it on the table for date night or Valentine's Day in no time.
Start by preheating the oven to 350 degrees. On one sheet pan, place your broccoli and drizzle on a little olive oil and salt and pepper.
Roast for 25 minutes and then remove and set aside.
I loved the charred taste that the roasted broccoli brings to the dish.
While the broccoli is roasting, place your skinless boneless chicken tenderloins on a tray and season with salt and pepper. Bake them for about 12-15 minutes or until the thermometer reaches 165 degrees.
While the chicken and broccoli are roasting in the oven, grab a sauce pan and make the alfredo sauce.
Simply add to a pan, 2 tablespoons of butter, your garlic powder, milk and greek yogurt. Allow it to melt together and heat through. Set aside and let cool for a minute.
Once it is cooled, add in your parmesean cheese and set aside.
Now,  all you have to do is cook your pasta!
Be sure to salt really well while it is cooking. Once the pasta is done cooking, pour off all but 1/2 cup of the liquid. Then mix in your alfredo sauce.
Toss in your broccoli and diced chicken breasts and mix together. When it is done you will have this delicious date night dinner for two (and enough left over for lunch the next day!)
How to Have a Great Date Night
My husband and I skip out on restaurants during Valentine's Day and many times you will find us having date night at home. How we do that is by planning ahead using these few simple tips.
Cook Together
We find that when we spend time together in the kitchen it opens the door for meaningful conversation. There have been a lot of times that we have talked almost the entire time we've cooked. Those are some of my favorite moments.
Go For a Walk After Dinner
You can do it either before or after dinner, but once you've eaten, why not go for a walk together. Not an energizing fast paced walk, but a slow stroll, taking in the environment around you, enjoying the presence of each other's company.
Make Time Together a Priority
Be sure and make spending time together a priority. Life can get pretty busy, so knowing that I am a top priority in my hubby's life makes me feel special and important. The same goes for him as well.
Now that you know how I do date night, be sure and click here for more wonderful your way recipe inspiration. It's never too early to start planning for a perfect date night or Valentine's dinner.
Gluten Free Skinny Chicken Broccoli Alfredo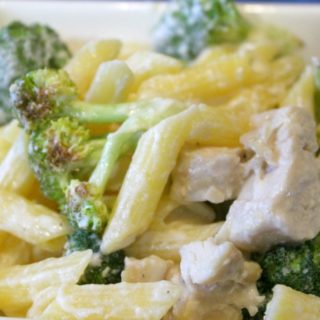 Ingredients
1 box of Barilla Gluten Free Penne Pasta
1/2 pound of baked chicken breast tenderloins, diced
1 head of broccoli chopped
1 tablespoon of olive oil
1½ teaspoons garlic powder
½ cup milk
¾ cup of plain greek yogurt, I used 0% fat
½ - ⅔ cup shredded parmesan cheese
salt and pepper to taste
optional: ½ teaspoon dried parsley (or 1 teaspoon fres
Instructions
Bake chicken in a 350 degree oven and then set aside. While chicken is baking chop broccoli and place on another sheet pan and roast with olive oil, salt and pepper for 25 minutes.
In a medium sauce pan, melt butter over medium heat. Stir in garlic powder. Stir in milk (or water). Remove from heat and allow to cool for 2-3 minutes. Gradually whisk in greek yogurt.
Add parmesan cheese to sauce and stir until melted. (If the cheese doesn't melt completely because the sauce is too cool, return to stove on low for a couple of minutes) Add salt and pepper to taste and toss with your favorite Barilla Pasta.