The other night when Kayla and I were planning what to fix for supper, we decided to grab a pineapple from the store and grill it! We had been wanting to try it and had seen it the other day on the Food Network and knew it was something we would be fixing. Grilled pineapple is super easy and SO delicious!
Looking for more easy recipes? Check out my huge database of delicious, homemade goodies.
Making grilled pineapple is as super easy as cutting it up and putting it on the grill. No special recipe or sauce. Not sure how to cut a pineapple? Here is a great step by step process that I found on About.com for cutting a pineapple.
Why buy fresh instead of canned?
Fresh pineapple has a much more fresher flavor that the canned stuff. It is sweeter, and just has a taste that canned cannot compare to. It is also cheaper in the long run. A whole pineapple will yield a ton of a fruit and can sometimes be found for .99-$1.89 for a whole pineapple. A small can of diced or rings will run you around the same price. You get triple the fruit for the same price 🙂
What does grilled pineapple taste like?
Grilling the pineapple will develop the sugars in the fruit and make it sweeter. After grilling you can drizzle it with honey or cut it up and serve it in a quesadilla (recipe to come).
Yield: 6
Grilled Pineapple-Easy and Delicious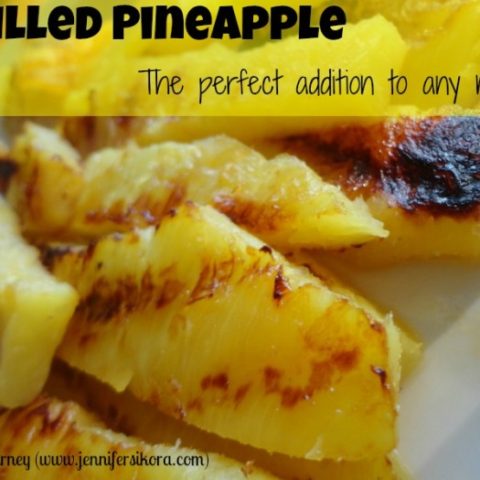 Grilling pineapple is a great way to develop the sugars and create a sweeter tasting fruit!
Ingredients
1 whole pineapple
honey, for drizzling afterwards
Instructions
Using the instructions in this post, peel and cut up your pineapple.
Slice either in rings for burgers or long slender slices as a side dish.
Place on the grill and leave until charred grill marks are present and the fruit releases easily.
Flip to the other side and do the same. Remove to a plate and allow it come to room temperature or serve hot.