This shop has been compensated by Collective Bias, Inc. and its advertiser. All opinions are mine alone. #AuthenticSalsaStyle #CollectiveBias
This has been the wettest summer we have ever had on the planet. When the weather is like this, it makes it hard to do what I love — and that is entertain. However, I do not let that stop me from trying my best of getting my friends together and having a blast. That is what I use my Monday night ladies book club for.
Today, I want to share with you a new recipe I created just for this special night — my Grilled Steak and Tamale Cornbread Bites.

Of course, for the past two weeks– all it has done has rained outside, so I decided to think outside of the box and use my inside grill pan and create that same effect and find ways to bring that outside grill flavor to the indoor grill.
One of my favorite foods to make and eat are tamales, but helloo — they take SO long to make. So I decided to try this recipe using a beautiful sirloin steak, HERDEZ® Salsa that I picked up at Walmart during my last shopping trip, and those little .50 boxes of corn muffin mix to offer an authentic tamale flavor without all the time involved.
From start to finish, this recipe took me about 30 minutes. Not long at all and it is great to serve to your friends and family.
Grilled Steak and Tamale Cornbread Bites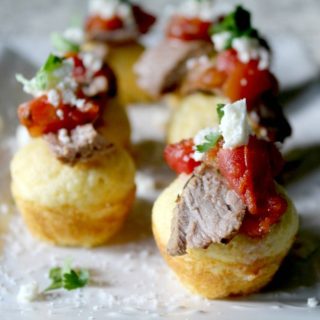 Ingredients
1/2 cup of HERDEZ® Salsa Casera plus more for garnish
1 sirloin steak
box of corn muffin mix
1 bunch of cilantro
Crumbled Queso Fresco for garnish
Instructions
Marinate steak in the 1/2 cup of HERDEZ® Salsa. Let set for 15 minutes.
Following the instructions on the box, make the corn muffins in a mini muffin tin.
Take the steak out of the marinade and either on an outside grill or an inside grill pan, place your steak down and cook about 5-7 minutes per side depending on how done you want your meat.
Remove the steak from the grill and let it rest then slice on the bias (or against the grain) into thin strips.
Place the thin strips on top of the mini corn muffins and then top with cilantro, queso fresco and HERDEZ® Salsa and then enjoy!
So let me show you how I made this easy appetizer dish —
For starters, go to Walmart, and grab a few jars of HERDEZ® Salsa.
My favorite is the Salsa Casera — because not only is it great as a topping, it is perfect for marinating that beautiful steak I talked about.
So the list of ingredients look like this —
HERDEZ® Salsa
1 Sirloin Steak
1 box of Corn muffin Mix
1 bunch of cilantro
Queso Fresco for topping
Start by marinating your beef with 1/2 cup of HERDEZ® Salsa.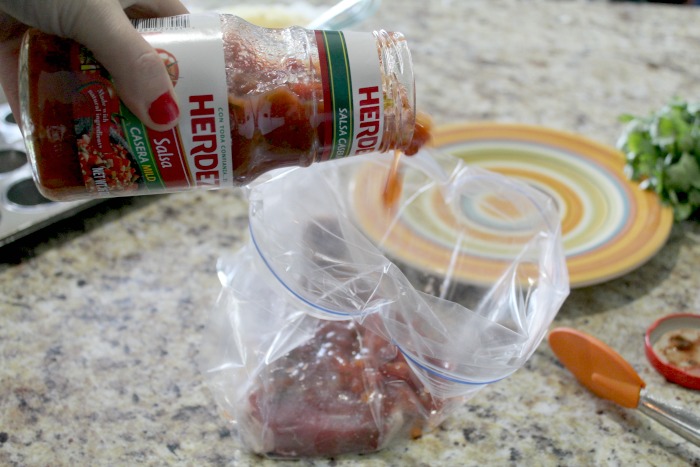 This recipe is great! Get recipe inspiration and beef nutrition information at "Beef. It's What's For Dinner".
I usually let my beef marinate for about 15 minutes. While it is marinating, I make my corn muffins. I like to use a little mini muffin pan because it makes it more bite size.
I stick them in the oven and then pull my steak out of the marinade. Now, like I said, I would normally grill this outside on my grill in the backyard with friends all around, BUT — it has been like a monsoon weather here so there has been no grilling outside.
But if you are grilling outside, you may find the best pellet smoker for the ultimate grilling purpose and have fun anywhere outdoors or in comfort of your own backyard.
I get my inside grill pan and drizzle it with olive oil and place the marinated steak on the pan.
I give it a few minutes so that it can get those nice grill marks going on, and then I flip it to the other side.
I don't like my steak to be cooked all the way through. I am a medium girl, so about 5-7 minutes per side is all you will need.
Remove the steak from the pan and let it rest. While the steak is resting, pull your muffins out of the oven and let them cool.
Once the steak has cooled, slice across the grain in thin strips, thin enough that they will fold on top of the muffins.
Top each steak topped muffin with a dollop of HERDEZ® Salsa and then sprinkle on chopped cilantro and crumbled Queso Fresco. You can sprinkle a little salt and pepper on if you want or finish off with a squeeze of lime as well. This recipe is so versatile you can do anything to it!
Then serve these to your friends and family and your next backyard get together. Hopefully the weather will clear up around here this week and I will get to have one myself. They are definitely my favorite way to connect and relax.
So tell me — what are your favorite little appetizer type foods to share with your friends and family during backyard grilling get togethers?