I did receive product in order to facilitate this recipe post. All opinions, do remain 100% my own.
The other night I was craving steak SO bad. We hadn't had one in a while and honestly, none of us wanted to pack up and head out to our local steak house, so we opted to grill our steaks at home. I made a delicious chimichurri sauce to go over the top of mine instead of the old boring steak sauce — and I must say — it was OVER the top delicious!
This recipe literally takes 15 minutes to make — complete with brussel sprouts and fries.
In order to make this a 15 minute meal, you are going to be using your broiler — and to cut down time on chopping and dicing herbs, I used Gourmet Garden Herbs and Spices (be sure to check out the end of the post because I am giving a set away!)
I love how easy the tubes fit right into the door of my refrigerator. It makes it super easy to grab one when I need a quick dose of herbs or spices for a dish.
So far — my favorite is the Chili Pepper and the Garlic. I use it on EVERYTHING!
Grilled Steak with Chimichurri Sauce
Ingredients
4 Rib-eye steaks
1 tube Gourmet Garden Parsley
2 tsp Gourmet Garden Chili Pepper
2 tsp Gourmet Garden Cilantro
1 tsp Gourmet Garden Oregano
1/4 cup Olive oil
1 Tbsp White wine vinegar
1 Tbsp Lime juice
2 tsp Gourmet Garden Garlic
Instructions
Combine Gourmet Garden Parsley, Chili Pepper, Cilantro, Oregano, olive oil, vinegar and lime juice. Mix well. Season with salt and pepper, if desired. Set aside.
Preheat the broiler on your stove for about 3 minutes. Once it is heated, take your steaks and place on a cookie sheet. Season with steak seasoning or salt and pepper.
Place under the broiler for 7 minutes. Take them out, flip them, and then place back under the broiler for 3-4 minutes depending on how well done you want your steak.
I like mine medium well, so this time worked great for that. If you want a well done steak -- it will take just an extra couple of minutes.
Take the steaks out and place them on the plates. Top with the chimichurri sauce and skip the steak sauce
If you want to make some delicious brussel sprouts to go alongside your steak, simply halve them and place them on another pan. Mix together 1/4 cup of olive oil and 1 teaspoon of garlic from Gourmet Garden. Massage this onto your brussel sprouts. Put them in at the same time your steak goes in and they will be SO delicious!
About Gourmet Garden
Making fresh herbs and spices easy for weekday cooking is our passion. We all know that fresh herbs make a big difference to the flavor and quality of a meal. But with all the goings-on during the week it's hard to find the time to buy or even prepare them.

Our herbs are organically grown and are simply washed, chopped, blended and packed into tubes to maintain all their fresh taste and nutrition. These handy herbs in a tube keep their fresh taste for months so there's no waste. Discover Gourmet Garden in varieties such as Garlic, Basil, Cilantro and Chili Pepper, in the fresh produce section of your supermarket.
Enter to win
One of my lucky readers is going to get to win a Gourmet Garden set of herbs and spices just like I did — complete in a nice little carrying case.
Use the Giveaway Tools form below to enter. Be sure to spread the word to your friends and have them come and enter as well.

We are so excited to be partnering with Gourmet Garden this week. Gourmet Garden offers convenient herbs and spices in tubes that make creating #15MinuteSuppers a breeze. No washing or chopping required…just squeeze in some herbs to quickly flavor your suppers! Need more quick 15 minute recipe ideas? Check out these other great #15MinuteSuppers from some of my friends!
Follow 15 Minute Suppers on Facebook | Twitter | Instagram | Pinterest and look for the #15MinuteSuppers hashtag too!
Head over to our #15MinuteSuppers Pinterest Board to see all the past recipes and more delicious goodness!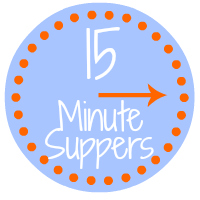 BLOGGERS: Would you like to join us at #15MinuteSuppers?
We'd love to have you! Please check out the 15 Minute Suppers website or ask to join the
Facebook group
(for bloggers) to participate on Fridays…we'd love to have you join us.
Disclosure: This is sponsored recipe for Gourmet Garden through 15 Minute Suppers. Recipe & opinions are my own.