This is sponsored recipe for Wholly Guacamole through 15 Minute Suppers. Recipe & opinions are my own.
I love guacamole. Better than that — I love pasta. When I received this delicious kit in the mail to review from Wholly Guacamole, my wheels started turning on what yummy dinner I could make using these dips and sauces. Immediately — my mind went to Guacamole Pasta. Seriously – nothing could be easier.
I didn't expect this dish to taste so amazingly fresh as it did. Honestly –it's just 4 simple ingredients, that take less than 15 minutes to prepare. The longest portion of preparing this meal is cooking your pasta.
Out of all the different products I received from Wholly Guacamole, I fell in love with the taste of the Avocado Verde. It is a mix between salsa and guacamole.
Here is the recipe — you seriously need to try this yummy dish!
Guacamole Pasta #15MinuteSuppers
Ingredients
1 box of your favorite pasta
1 tub of Wholly Guacamole Avocado verde, or your favorite flavor
1 pint of cherry tomatoes
cilantro for garnish
Instructions
Prepare your pasta according to package directions. Drain and place in your dish.
While the pasta is hot, add in your guacamole so that it can melt and get into the little crevices of the pasta.
Top the pasta with sliced cherry tomatoes and garnish with torn bits of cilantro.
For a little added flavor, you can top with feta cheese or monterey jack cheese.
Need more quick 15 minute recipe ideas? Check out these other great #15MinuteSuppers!
Follow 15 Minute Suppers on Facebook | Twitter | Instagram | Pinterest
and look for the #15MinuteSuppers hashtag too!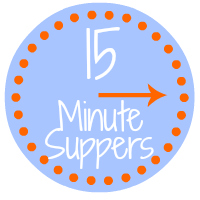 BLOGGERS: Would you like to join us at #15MinuteSuppers? We'd love to have you! Please check out the 15 Minute Suppers website or ask to join the Facebook group (for bloggers) to participate on Fridays…we'd love to have you join us.
Disclosure: This is sponsored recipe for Wholly Guacamole through 15 Minute Suppers. Recipe & opinions are my own.
Enter to win
17 readers are going to get the chance to win a Wholly Guacamole package full of yummy products to try! Use the Rafflecopter form below to enter.