My kitty and my puppy are like family members to everyone in our house. When we get a special treat, they like a special treat too! Because Halloween is right around the corner, I decided to make some goodies just for them so that they don't feel so left out on this spooky night. Here are 2 homemade Halloween treats for your pets that you can make.
Tucker has been celebrating Halloween with us now for 7 years. In the past, he has been a pumpkin, a hot dog, Yoda, and last year he went as Woody. My daughter has SO much fun dressing him up, and to be honest, I think he LOVES it.
Before I share these yummy treats with you, I want to share a quick tip with you that I learned about dogs and cats and Halloween costumes– make sure the costume is comfortable and fits right for your pet.
As you can see from the Yoda costume that Tucker wore, it was way too big for him and kept falling off. He was not comfortable and kept shaking the ears off, which was frustrating for both me and him. Now, as you can see in the Woody picture above, that one fit him perfectly and he was fine to wear it all night.
Just a note — the minute they start to get uncomfortable, take their costumes off.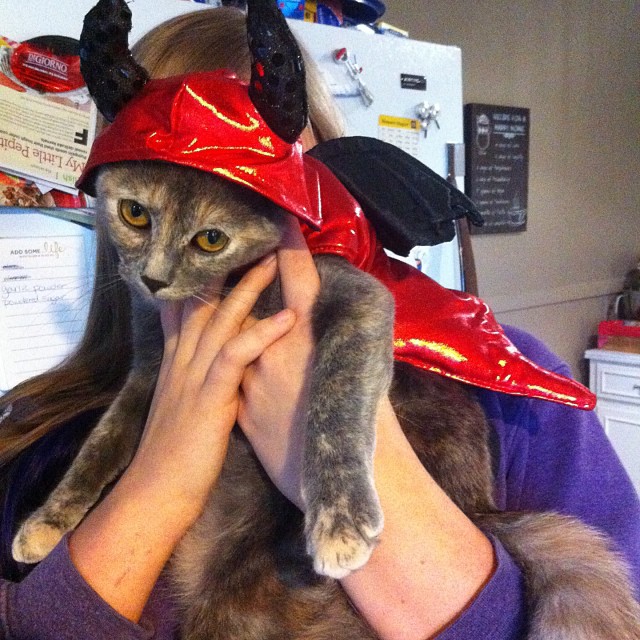 2 Homemade Halloween Treats for Your Pets
Here are the two special recipes I have for you!
Kitty Cookies
Will make 15-18 cookies
1/4 cup warm water
5 tablespoons Parmesan cheese
3 tablespoons butter, softened
1 tablespoon tuna fish oil (from a can of tuna)
1 cup white flour
1/4 cup whole wheat flour
Preheat oven to 300 degrees Fahrenheit.
Combine water, cheese, butter, and oil.
Add flour and form a dough.
Roll to 1/4 inch thick and cut with cookie cutter. I like to use a little paw cutter so that they make cute cookies!
Bake at 300 degrees on an ungreased cookie sheet for 20-25 minutes or until cookies are lightly golden.
Pup Treats
Makes 14 treats
2 cups water
3/4 cup canned applesauce
1/8 teaspoon vanilla
1 egg
3 cups whole-wheat flour
1 cup white flour
1/4 cup chopped nuts
1 tablespoon baking powder
1/4 teaspoon nutmeg
1/4 teaspoon cinnamon
1/4 cup oats
Preheat oven to 350 F.
In a bowl, mix water, applesauce, vanilla and egg thoroughly.
In a separate blow, combine flour, nuts, baking powder, nutmeg, and cinnamon, stirring well.
Add wet ingredients to dry and mix well.
Spoon into greased muffin tins, filling each cup completely and bake for about 1 1/4 hours. Cool completely and store in a sealed container.
These two treats are special occasion, so don't over feed your pet these treats. While you enjoy your favorite yummy sweets on Halloween, you can give your pet one of these. To save them for a future special occasion, just bag them up and place them in the freezer. When you need one, just pop it out and let it thaw. Instant treat for your fur baby!
Now if you don't have time to make any homemade goodies for your pets. . .
You can always buy them store-bought treats like Nutrish Savory Jerky, Soup Bones, or Savory Bites. These are the perfect little treat for your dog.
Tucker with his Soup Bone Minis and Savory Bites treats from Nutrish
I dare you to try and take his Nutrish Savory Jerky Treat. These are his favorite so far!
What about you? Do you celebrate Halloween with your pets? What are some things that you do for your fur babies?
Check out Nutrish for Pets. While there, be sure to grab the high dollar coupons to help save money as well! We love this brand and will stand behind it for years to come!