Despite what experts say, living healthily is not the easiest task in the world when you have everyday stresses bogging down your mind and making you feel like your time out is limited to the hours when you're asleep.
Taking up a hobby that you enjoy and are good at is a great way to build your self-esteem, relieve some of the stress of your workweek, and even build your social life. Let's take a look at some of the healthiest hobbies you can pick up to help you become a more well-rounded and healthier individual.
Gardening
If you're looking for a healthy hobby that will help with your mental and physical health, as well as improve your diet, look no further than gardening.
Aside from bringing you in touch with nature, being out in the garden and being a part of the cycle of growing plants is a great way to bring beauty into your life as well as help you save money on your grocery bill.
Gardening teaches you patience and responsibility, and the rewards are numerous. Aside from being able to eat what you grow, knowing that you had a hand in growing what you are eating is a huge emotional boost and gives you an immense sense of achievement. 
The great thing about gardening is that you don't even need to have a garden to grow things. You can grow herbs in the window box of an apartment or on a balcony just as well as you could in a garden bed and you will get the same benefits.
Dancing
Dancing is a form of art that has been around for so long that it was around even before people could write, and there are so many benefits to taking up dancing as a hobby.
Not only does dancing keep you mentally and physically fit, but it can also improve your flexibility, increase your creativity, reduce depression, help expose you to different cultures and people, and even improve your communication skills.
There are also so many different types of dancing to explore, from contemporary to jazz, tap, hip-hop, and ballet – the list goes on and on. So, before you decide that dancing "isn't your thing" consider trying out a range of different styles of dance as you'll be sure to find something that will get your feet tapping and your body moving with just a little bit of effort on your part.
Yoga
Just like dance, there are many different types of yoga that you can explore, but what they all have in common is that they can assist in improving your mental and physical wellbeing.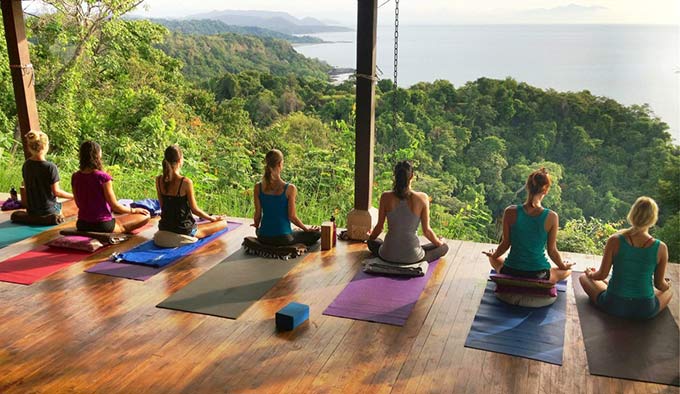 The mix of physical exertion and meditation can help with improving your mental resilience and help you focus and different styles of yoga and even different poses within those styles can help focus on problematic parts of your body. With personalized yoga sequences becoming extremely popular, there really is no better time to take up the practice of yoga in order to live a healthier life. 
Outdoor Hobbies
There is no shortage of scientific evidence to prove that being outdoors is good for your mental wellbeing, so why not take up a hobby while you are outside getting some sun? From low-cost options like walking and hiking in your local nature reserve to take up an outdoor sport like canoeing or kayaking, there are hobbies for people of all budgets and fitness and skill levels. 
Before you take up an outdoor hobby like kayaking, be sure to do some research beforehand to make sure that you are fit enough and have the right equipment to make sure your hobby is both enjoyable and safe.
Healthy living can be hard but it can also be a lot of fun. Choosing a hobby that you enjoy isn't always easy but the rewards are definitely worth the work.