As always, my girl Paula Deen knows how to do it up right! When pork tenderloins are on sale at the butcher, I always buy one so I can make this amazingly delicious Herb Crusted Pork Loin. It is SO good and tasty and flavorful!
While making this, you are going to be like me and say — that is WAY too much salt and rosemary for one recipe. Don't fret. That amount of salt is just perfect for this piece of loin.
Be sure to serve this with another great Paula Deen Dish — Grilled Potatoes and a dessert of Candy Snack Cake! YUM
Here's the recipe. Go make  this recipe today. Your family will love you for it 🙂
Herb Crusted Pork Loin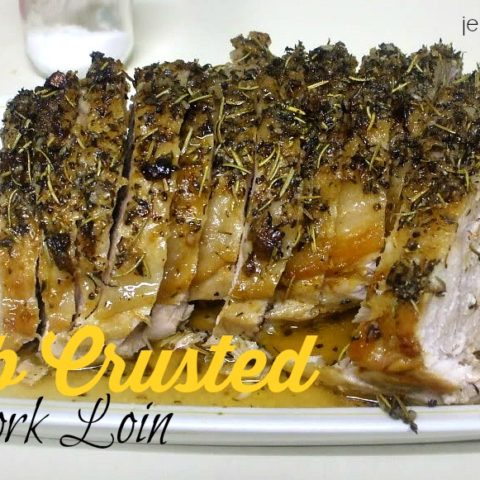 Ingredients
1 4-pound boneless pork loin, with fat left on
1 tablespoon salt
2 tablespoons olive oil
4 cloves garlic, minced
1 teaspoon dried thyme or 2 teaspoons minced fresh thyme leaves
1 teaspoon dried basil or 2 teaspoons fresh basil leaves
1 teaspoon dried rosemary or 2 teaspoons minced fresh rosemary
Instructions
Directions
Preheat oven to 475 degrees F.
Place the pork loin on a rack in a roasting pan. Combine the remaining ingredients in a small bowl. With your fingers, massage the mixture onto the pork loin, covering all of the meat and fat.
Roast the pork for 30 minutes, then reduce the heat to 425 degrees F and roast for an additional hour. Test for doneness using an instant-read thermometer. When the internal temperature reaches 155 degrees F, remove the roast from the oven. Allow it to sit for about 20 minutes before carving. It will continue to cook while it rests.