This shop has been compensated by Collective Bias, Inc., Abreva, Breathe Right, Clorox, Robitussin, and Theraflu. All opinions are mine alone. #SoothesOfTheSeason #CollectiveBias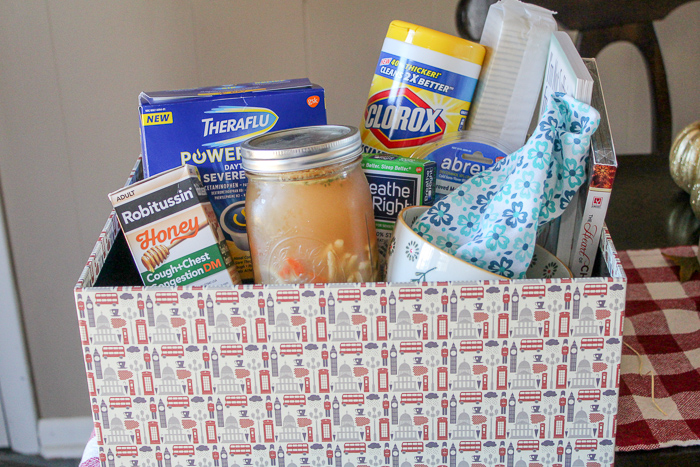 When the cold weather hits, I am all about giving my friends who find themselves under the weather a get well care package. I don't just give them a box of tissues and some medicine though. Nope — I go all out. They are my friends and I want them to know how much I care, so I give them an ultimate Get Well Care Package.
How to Put Together the Ultimate Get Well Care Package
My packages start with hitting up Kroger to stock up on all their cold and flu products. This time of year, they always have amazing coupons (but their prices are already great, to begin with).
I stock my get well care packages with —
Abreva® Pump Cold Sore and Fever Blister Treatment (great for healing cold sores* right when they start!)
Breathe® Right Extra Clear Nasal Strips (provides relief due to congestion of colds and flu. Not only that, but they are drug-free and safe to use with any sleep medication)
Clorox® Disinfecting Wipes ( to help wipe away some of those pesky allergies roaming around — up to 99.9% of the most common allergens**)
Remember, Theraflu Power Pods Daytime Severe Cold and Robitussin® Maximum Strength Honey Cough & Chest Congestion DM should not be used at the same time —
Robitussin® Maximum Strength Honey Cough & Chest Congestion DM (Soothes on contact and provides hours of relief — and the honey flavor is really good!)
Theraflu Power Pods Daytime Severe Cold (these are new and I knew I wanted to include this for my friends who have a Keurig. They are compatible with most single-serve coffee makers, and they work on your severe symptoms and even relieves fever.)
Oh — and here are a couple of savings you won't want to miss! Beginning on 12/9/18 through 1/26/19 you can get $1 Off Any Theraflu Product $2 off Theraflu Power Pods, 12ct Powders, 40ct Caplets, and Syrups Twinpack and $1.25 off coupon for Robitussin Products through 1/4/19.
Putting Together Your Ultimate Get Well Care Package
I start with a super cute box because I STUFF the get well care packages full. I stock up on those super cute blankets you can find at most stores (even Kroger has them!) and I put that in the bottom of the box.
When I am sick, all I want is a comfy blanket.
Then, I stuff the top with all the cold and flu goodies I picked up at Kroger.

I also include books and movies, but the best part — I always include a huge mason jar of my homemade Chicken Noodle Soup.

I use canned carrots, drained and chopped, 2 boxes of chicken broth, diced cooked chicken (that's where those Rotisserie Chickens come in handy), egg noodles, parsley and salt and pepper for the perfect soup when you are under the weather.
I also add in a sleeve of crackers and a super cute soup bowl. I don't know about you, but even when I am under the weather, super cute things always make me smile.
I package it all up and deliver it to whichever of my friends are under the weather at the time. It's just my way of saying I care about you — and I hope you feel better soon!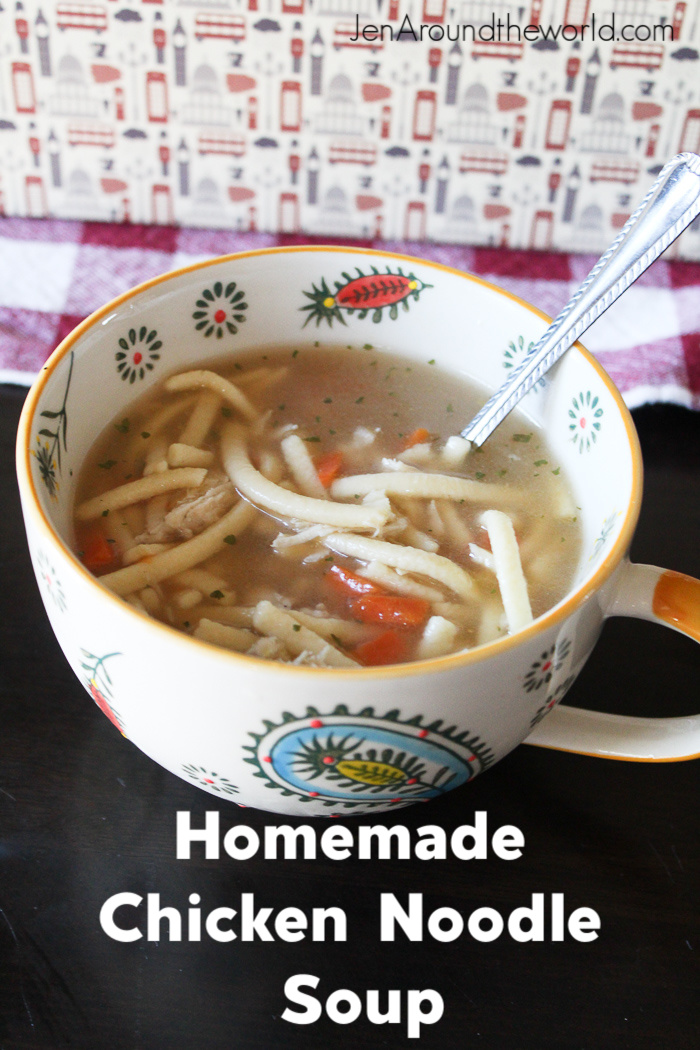 I love being able to give baskets like this to my friends! It not only blesses them, but it blesses me as well.
Be sure to stock up on all your cold and flu needs this season at Kroger. They are my one stop shop for all things health-related.
What about you? Do you give gifts like this when your friends are sick?
Theraflu-(c) 2018 the GSK group of companies or its licensor. Theraflu is for use in adults 12 years and older. Use all products only as directed. Read the label and follow directions. Abreva, Breathe Right, Robitussin – Use only as directed. Read the label and follow directions.
*Among OTC cold sore treatments, when used at the first sign
**Use Clorox products as directed for removal of non-living allergens like pet dander, dust mite matter and pest matter on hard nonporous surfaces in your home. Keep out of reach of children.