Make your own homemade chicken noodle soup and package it up to give to a friend in a sick care package. Read on below to learn how to make your own!
When the cold weather hits, I am all about giving my friends who find themselves under the weather a get well care package.
I don't just give them a box of tissues and some medicine though. Nope — I go all out. They are my friends and I want them to know how much I care, so I give them an ultimate Get Well Care Package.
How to Put Together the Ultimate Get Well Care Package
During most of the year, I stock up on cold and flu products when they go on sale. For me, I love to hit up Kroger, Walmart, the pharmacy — and find all the sales and specials.
Then I keep a stockpile so when I need them, I can pull from my stash.
I stock my get well care packages with —
Cold and flu medicines like Nyquil, etc
Clear Nasal Strips (provides relief due to congestion of colds and flu.)
Clorox Disinfecting Wipes ( to help wipe away some of those pesky allergies roaming around)
sore throat drops and lozenges
Kleenex
a fuzzy blanket
and a movie
books
my homemade chicken noodle soup and a sleeve of crackers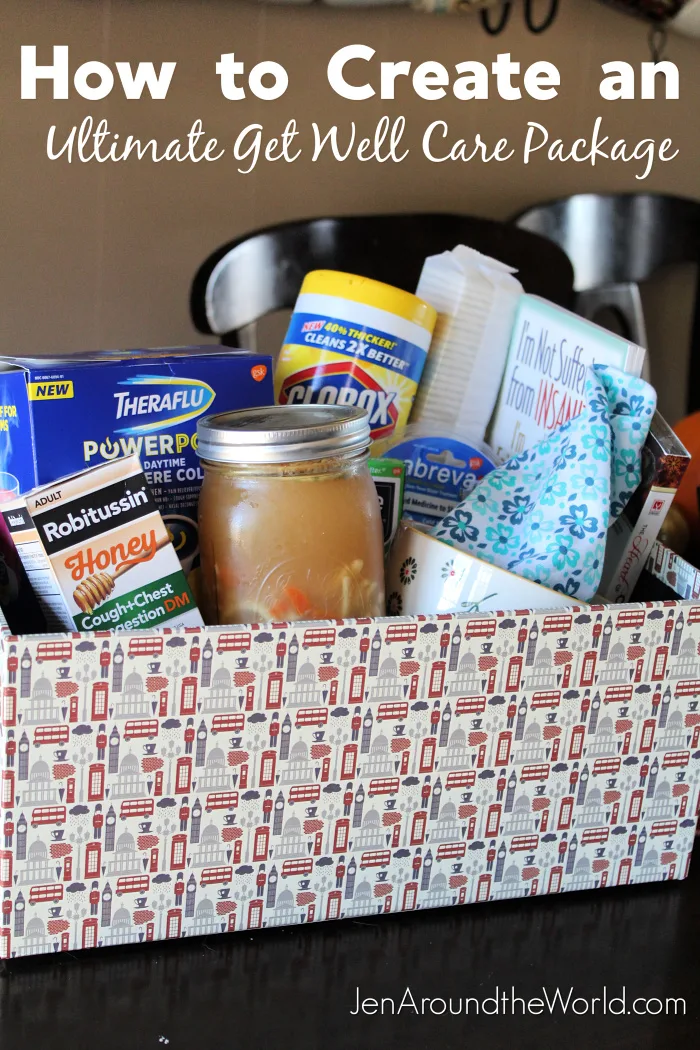 Putting Together Your Ultimate Get Well Care Package
I start with a super cute box because I STUFF the get well care packages full. I stock up on those super cute blankets you can find at most stores (even Kroger has them!) and I put that in the bottom of the box.
When I am sick, all I want is a comfy blanket.
Then, I stuff the top with all the cold and flu goodies I think they might need.

I also include books and movies, but the best part — I always include a huge mason jar of my homemade Chicken Noodle Soup.

I use canned carrots, drained and chopped, 2 boxes of chicken broth, diced cooked chicken (that's where those Rotisserie Chickens come in handy), egg noodles, parsley and salt and pepper for the perfect soup when you are under the weather.
I also add in a sleeve of crackers and a super cute soup bowl. I don't know about you, but even when I am under the weather, super cute things always make me smile.
I package it all up and deliver it to whichever of my friends are under the weather at the time. It's just my way of saying I care about you — and I hope you feel better soon!
I love being able to give baskets like this to my friends! It not only blesses them, but it blesses me as well.
What about you? Do you give gifts like this when your friends are sick?
Check out these other delicious soup recipes
Yield: 6 cups
Homemade Chicken Noodle Soup
This Chicken Noodle soup is perfect for giving to friends and family when they are under the weather.
Ingredients
3 boxes Chicken broth
1/2 can carrots chopped
1 tablespoon parsley
2 each chicken breasts, cooked and chopped
1/2 bag wide egg noodles
Instructions
Place a pot on the stove and turn it on to medium-high.
Add in chicken broth, carrots, parsley, and salt and pepper to taste
Chop or shred the cooked chicken and add to the pot. Now, add in your egg noodles and cook for about 10 minutes or until noodles are tender.
Enjoy!
Nutrition Information:
Yield:
10
Serving Size:
1
Amount Per Serving:
Calories:

56
Total Fat:

1g
Saturated Fat:

0g
Trans Fat:

0g
Unsaturated Fat:

1g
Cholesterol:

24mg
Sodium:

297mg
Carbohydrates:

3g
Fiber:

0g
Sugar:

0g
Protein:

8g