My daughter is really becoming quite the chef. She made these delicious Chocolate Chip Cookies. Look how gorgeous they are!
I found this photo hiding amongst our homeschool photos from year 2008! It was the first time that Kayla got in the kitchen and baked cookies ALL BY HERSELF!
Here is the recipe that she used.  She has really gotten good at making stuff homemade. She has the knack for making stuff homemade. All I can say is that homemade is way better than store bought, cheaper, better for you, and super easy to make!
Homemade Chocolate Chip Cookies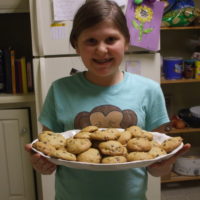 Ingredients
2-1/4 cups all-purpose flour
1 teaspoon baking soda
1/2 teaspoon salt
1 cup 2 sticks butter, softened
3/4 cup granulated sugar
3/4 cup packed light brown sugar
1 teaspoon vanilla extract
2 eggs
2 cups 12-oz. pkg. Semi-Sweet Chocolate Chips
1 cup chopped nuts, optional
Instructions
Heat oven to 375°F.
Stir together flour, baking soda and salt. Beat butter, granulated sugar, brown sugar and vanilla in large bowl with mixer until creamy. Add eggs; beat well. Gradually add flour mixture, beating well. Stir in chocolate chips and nuts, if desired. Drop by rounded teaspoons onto ungreased cookie sheet.
Bake 8 to 10 minutes or until lightly browned. Cool slightly; remove from cookie sheet to wire rack. Cool completely. About 5 dozen cookies.
Have you ever made homemade cookies? Which ones are your favorite to make?