Last week when we had a Mexican Fiesta, I tried my hand at making homemade churros. If you are not familiar with what a churro is, it's basically like a Spanish Donut. You fry it and then roll it in a cinnamon sugar mix and it makes the most amazing and fluffy sweet treat you could ever imagine. Many people serve them with a chocolate dipping sauce. Here is my recipe for Homemade Churros.
Looking for more easy recipes? Check out my huge database of delicious, homemade goodies.
Yield: 10
Homemade Churros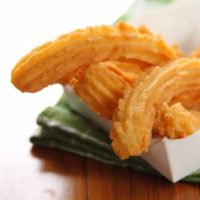 Churros can be served as either an appetizer or a dessert. There are tons of ways to dress them up!
Ingredients
1 cup water
1 1/2 tablespoons sugar
Pinch kosher salt
1 cup self-rising flour
2 eggs, plus 1 egg yolk
Peanut oil, for frying
2 tablespoons of cinnamon
1 tablespoon of sugar
Instructions
Make the dough by heating water, sugar and salt in saucepan over medium heat until hot.
Add the flour all at once and stir vigorously for 1 minute on the heat to dry the mixture out.
Remove from heat and transfer the dough to a stand mixer bowl; mix on low speed until there is no longer steam escaping from the dough.
With the mixer running on medium, add the eggs, 1 at a time, incorporating completely until a shiny, smooth texture forms before adding the next egg, and then the egg yolk. Scrape down the mixer bowl with a rubber spatula between each addition. Transfer the dough to a piping bag.
Pour oil into a large heavy bottomed pot to a depth of 4 inches; heat over medium-high heat to 375 degrees F.
To fry the churros, carefully squeeze the dough from the piping bag directly over the oil in 3 to 4-inch lengths, cutting the dough at the tip with a butter knife and gently dropping them into the oil.
Turn frequently with tongs until golden brown, about 3 minutes.
Work in batches to prevent overcrowding the pan and allowing the oil to reheat to 375 degrees F between each batch.
Drain the churros on a paper towels and then toss in the cinnamon sugar to coat while still warm.