This week for our #15minutesuppers food post, anything goes — so I thought I would share with you my new favorite all time snack that is not only healthy for you, but super quick to throw together. Homemade hummus with Crispy Pita Chips is super delicious and a great way to get some protein in when you need a delicious and fortifying snack.
Homemade Hummus and Pita Chips #15minutesuppers
Ingredients
2 cups cooked chickpeas, canned is fine, reserve 1/4 cup liquid
1 garlic clove, minced
1 Tablespoonolive oil
1/4 cup tahini
1/4 cup freshly squeezed lemon juice
1/4 cup reserved chickpea liquid or water
1/4 teaspoon lemon pepper
sprinkle of crushed red pepper, optional
sea salt, to taste
Instructions
Place all ingredients into your food processor (except for the salt) and process until the smooth and creamy.
You may need to stop and start a few times to get things moving. I always scrape down the sides and move things around in order for it to all get ground up.
Add the salt gradually until the hummus reaches your taste. If the hummus is too thick, just add more olive oil and/or reserved chickpea liquid to thin out if desired. Add more seasonings to suit your taste.
Spoon the hummus into a bowl and drizzle with additional olive oil, salt if desired and serve with crispy pita chips and fresh veggies. Cover tightly and store up to 4 days in the refrigerator.
To make the crispy pita chips, you just buy pita pockets from the store and pull the pockets apart and slice into triangles. Spray them with cooking spray, sprinkle with salt, and place them in a 350 degree oven for about 5-10 minutes. Watch and make sure that they don't burn.
Today we are all sharing recipes that are 15 minutes or less, whether it's a smoothie, holiday dessert, or a quick snack. Having a bunch of recipes that only takes a few minutes in your recipe tool box is good thing! Need more quick 15 minute recipe ideas? Check out these other great #15MinuteSuppers!
Follow 15 Minute Suppers on Facebook | Twitter | Instagram | Pinterest
and look for the #15MinuteSuppers hashtag too!
Head over to our #15MinuteSuppers Pinterest Board to see all the past recipes and more delicious goodness!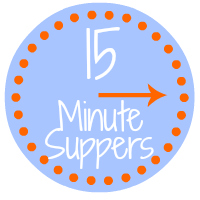 BLOGGERS: Would you like to join us at #15MinuteSuppers? We'd love to have you! Please check out the 15 Minute Suppers website or ask to join the Facebook group (for bloggers) to participate on Fridays…we'd love to have you join us.