This shop has been compensated by Collective Bias, Inc. and its advertiser. All opinions are mine alone. #BigLotsHoliday #CollectiveBias
You may have heard of a White Elephant party — where everyone brings a neat and unique gift, wrapped up, and then all throughout the party, gifts are exchanged, traded, etc until the end.
It is a game of sorts that can cause mayhem, mischief and oh so much fun if you host it right. Today, I am going to show you an easy way to host one and share with you my favorite store for all things White Elephant related.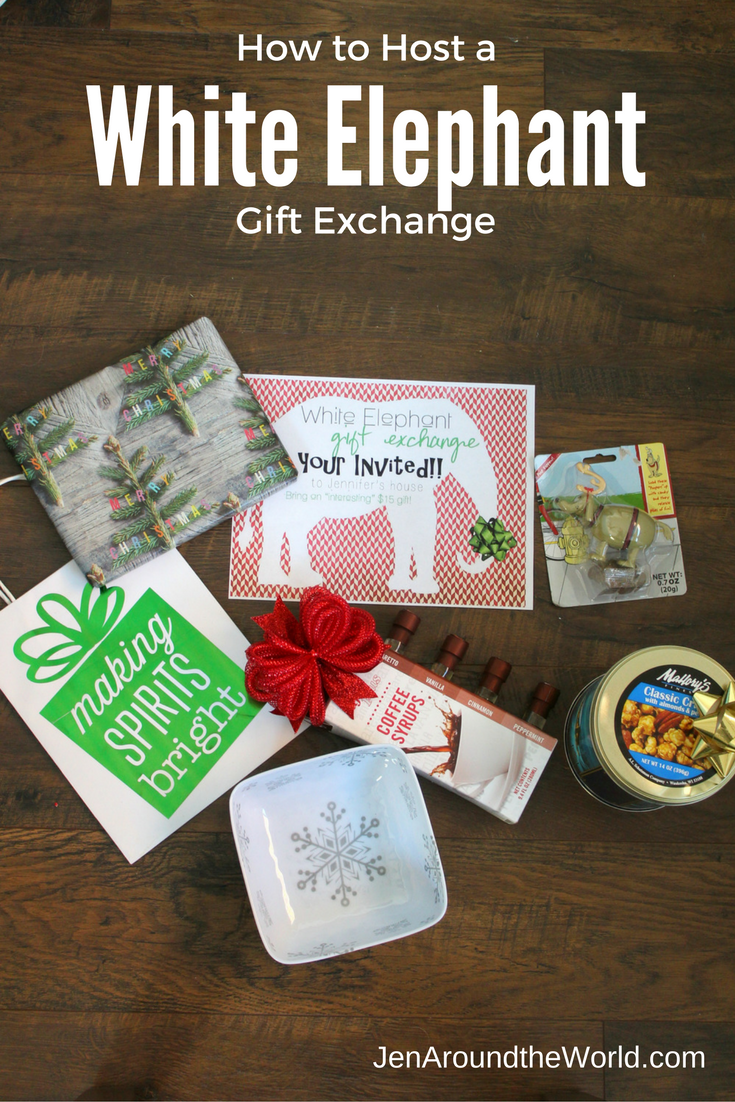 You might have also heard of a White Elephant Party referred to as Dirty Santa, The Elf Game, etc. There are many names it is known by, but the main object of the game is to walk away with something you wanted more than anything.
The Invitation
The first thing you need to do is to decide where and when your party will be held. Then, you can either buy invitations at the store (my favorite is Big Lots), or you can just use a site like PicMonkey or Canva to create a fun invitation.
The Price Limit
Next, you need to set your price limit. Usually $15 is a great price to start with, and if you shop somewhere like Big Lots, then you can get all kinds of amazing and unique gifts for $15 and under.
For instance —
While I was at Big Lots the other day picking up all my supplies for the party I am planning, I decided to check and see what kinds of gifts I could find for $15 or less.
All of these cute gifts were only $5! I did snatch up a couple of those hot sauce packs for stocking stuffers for my family. And I found a cool set of coffee syrups that I plan on giving to my daughter in her stocking this year as well.
Big Lots can help you to check more off of your list and get great quality, name brands, and trend right items, all at a great value. They have the perfect Christmas gifts for you to choose from for the holiday season.
These cookie skillets were only $6 — and yes that is a real cast iron skillet. That is worth more than $6!
Big Lots has everything you could ever think of — honestly — there is nowhere else you need to shop. I can say that even though I was shopping for my party, I found so many Christmas presents that I wanted to give my family members — so I racked up on some great deals!
The Party Set Up
Once you have sent your invitations, and set the gift price, the next thing you need to do is set up the party. While I was at Big Lots, I picked up snacks, plates, fun and festive table decorations, and these cute snowflake bowls that just added the perfect touch to my holiday party tablescape.
For my table setting, I picked up some snowflake napkins to match the bowls, small stockings that I am going to use to hold the silverware, and some very beautiful and festive paper plates.
The thing that I really love about Big Lots is that they already have low, low prices, but — they are always running sales – and the day I shopped, they had a 20% off sale going on on certain Christmas items.
I added a few more touches like Christmas bags decked out with fancy bows, and my own personal White Elephant Gift that I won several years ago, so I could share my story.
What Type of Party Will You Host?
Now, you need to decide what type of party will you host and what type of gifts will you give? You can do unique gifts like the ones I showed above, or you can do ornaments (which is the one I participated in before). For book lovers, you could even do a book one.
So — what you do at a White Elephant Party is you have everyone bring a unique gift (remember Big Lots has TONS of anything you could want or need).
Then, make sure that they are wrapped so that no one has a clue what each present happens to be. Then when the guests arrive, have them place all of their gifts in one location.
Now, in a bowl or a hat, count the number of guests you have and write numbers on slips of paper, fold them and place them in the bowl or hat.
Then have each of your guests draw a number. The best numbers are the #1 and whatever the final number is of your guest list.
Once everyone has a number, then whoever is #1 goes first. They choose a gift and open it. That is their gift. Then, #2 goes. They may choose a gift, or they can take a gift that has already been opened.
On and on you go until you reach the end. If there were 6 people at your party, when number 6 gets done –either choosing a gift or taking one that was already opened, then the final person in the party — guest #1 gets the final say — she will either take a gift from someone — or can open the final gift left.
The Year I Won the White Elephant Party
The year that I went to my first White Elephant party, we did an ornament exchange. And if you know anything about me, I LOVE sparkle ornaments. So the minute I saw this Santa — I wanted him.
Of course, I got lucky and drew #1 so I knew he was going home with me. Everyone wanted him, but I ended up with him.
The White Elephant game is so fun to play at your holiday party — and is a good way to have a little healthy competition between friends.
Remember to stop in at your local Big Lots and grab everything you need to host your own White Elephant Party this season.
Click HERE for some basic white elephant gift exchange rules that you can print out and display at your event! Place limits on exchanging or stealing gifts so the game will have an ending point. Visit WhiteElephantRules.com for more detailed directions.
Have you ever hosted a White Elephant Party in your home?