Last week, I booked my flight to attend the Type-A Parent conference that was held in Atlanta, Georgia. What I didn't expect was to have and early flight and have to fly out at 7:05 am in the morning. Now — I live 2 hours from the airport, and because they say you should always get to the airport at least 2 hours early, that put me getting up at 1 am in order to leave the house by 2 am. If you know me at. all. then you will know that is WAY too early for me. So what did I do? Look for Nashville hotels that had airport shuttles and I remembered my stay at Hotel Preston and knew that was who I was going to call on.
When we took our youth group last year to Aquire the Fire, we stayed at Hotel Preston. I was impressed then with the staff, the cleanliness, and the friendliness of all who were there, so I knew it was going to be a hotel I kept in the back of my mind for future visits to Nashville.
Hotel Preston is about a mile from the airport, and literally takes minutes to get there. I was able to sleep in until 4:30am the next morning. The friendly staff set up my shuttle for me, told me not to worry, enjoy a night of rest and they would take care of everything.
They called me the next morning to make sure I was awake. I sure did not want to pull myself out of this massive King sized bed. It was so comfortable and snuggly warm.
The Rooms
The rooms here are beautifully and modernly decorated. I was greeted with a sweet little beta fish and a lava lamp to keep me company. To me, it felt very warm, and inviting.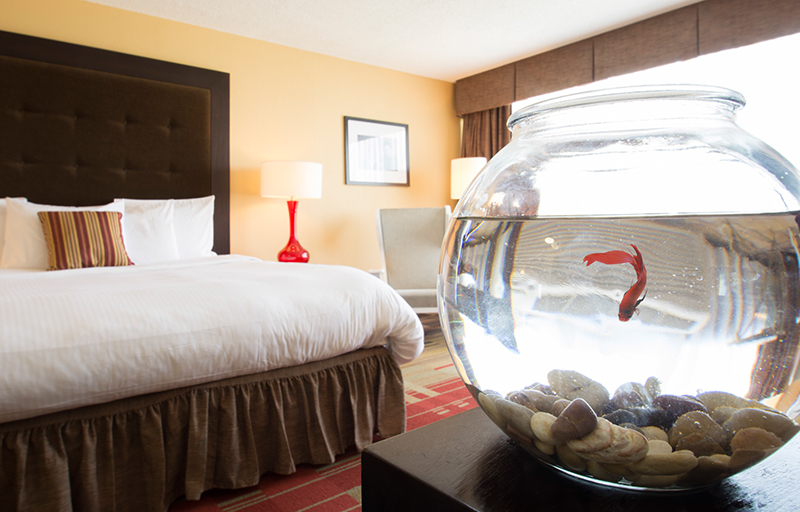 The suites (which is what I stayed in) are equipped with a pull out couch, which works great if you have a whole family that will be flying out.
Nothing beats how "at home" you feel when you stay at Hotel Preston.
The Food
Hotel Preston is equipped with two different venues inside the hotel. You have Cafe Isabella, which is a sit down family restaurant with exquisite foods and mouth watering menus.
The Pink Slip is a lounge where you can chill out, have a drink, get some appetizers, and listen to some good ol' southern music. It's a great place to unwind if you have had a long day and need to relax.
With meetings rooms and event space, a restaurant, lounge, and swimming pool, Hotel Preston caters to vacationers and business travelers alike, providing an only-in-Music City combination of creativity and sass.
If you are traveling through Nashville, and need a beautiful and relaxing place to land, Hotel Preston is the perfect place to put your feet up at.
Have you ever stayed at Hotel Preston? What did you think?
I received a complimentary night of stay at Hotel Preston in exchange for writing this post. All opinions listed are 100% my own.