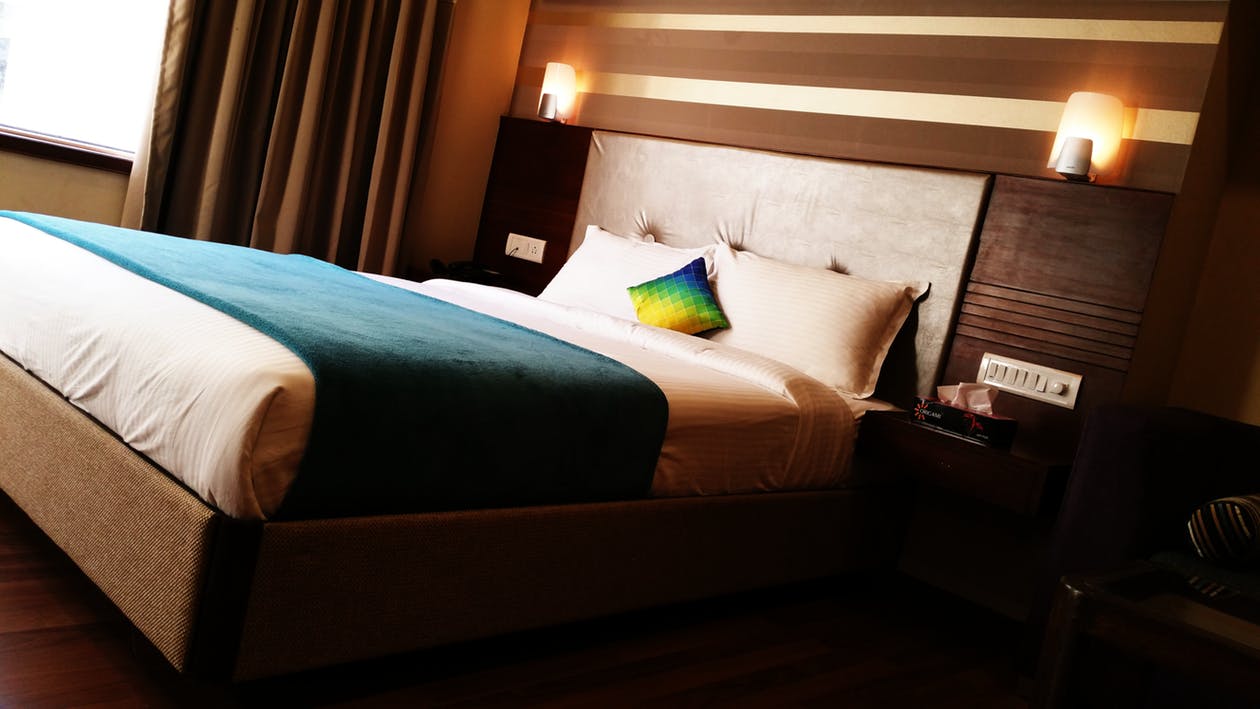 I travel for a lot of reasons —  business trips, holidays, attending conferences, and more. and When I do, a spend a lot of time in my hotel room.
Hotels usually take all necessary measures to ensure that my stay is always comfortable, safe and satisfactory. I will not lie — I am super picky about where I stay. My priority list is long and the top two things are comfort and convenience.
Because of that, there are 3 things I always look for in my hotel room stay — and if these 3 things are correct, my hotel stay is always perfect.
3 Things That Make Your Hotel Room Stay Perfect
#1 The Bed:
For real though, I am a queen-size or king-size bed type. I will not stay at a hotel with full-size beds. There is just not enough room. I like to spread out with my laptop, my phone, snacks, and more when I am in bed and a full-size bed just does not offer that.
The sheets need to be soft and it must have a comfortable mattress, cushions, and pillows. Most hotel chains these days understand this and offer all these amenities (which makes me happy). Some even offer the option to choose different pillows, a duvet or a sheet, and they have also sleep enhancing fragrances and music to soothe your sleep.
#2 The Air in the Room
Y'all— I am a cold air freak. I sleep with a fan on even in winter, so when I stay at a hotel, my hotel room must be cold at all times.
Comfort has a lot to do with room temperatures and the ease of its control. If the air conditioning is not functioning properly, it causes all kinds of issues. I will have them change my room if the air conditioning is not working properly.
Nothing could be worse than not having ideal room temperature and a non-working air condition unit that only leaves you angry and upset.
#3 The Bathroom:
Hotel bathrooms see a lot of wear and tear, so I am always checking it out to see if there are issues like mold, smears from previous guests, hair, and more. I pay close attention to the cleanliness of the bathroom, and if it is not up to par, I will ask for another room or leave that hotel altogether.
One very important aspect in the bathroom is its lighting and shower. Showers should be easy to operate, easy to control the temperature of water and controls well placed. Lighting has to be adequate to ensure that when I am getting ready for a night on the town, I can actually see what I am doing.
Finally
As the old saying goes, a hotel is a home away from home, or at least it is for me. Whenever I travel away from home, I am always on the hunt for something that resembles the comfort of my home. I look for the same no matter where I stay.
As a guest before selecting a hotel, use the tips above to make sure you choose the best hotel room for your next stay somewhere.