Every year, businesses and churches get involved in hosting a Trunk or Treat for the kids in the neighborhood. It's a safe way to pass out candy to families and they know that everyone involved can be trusted.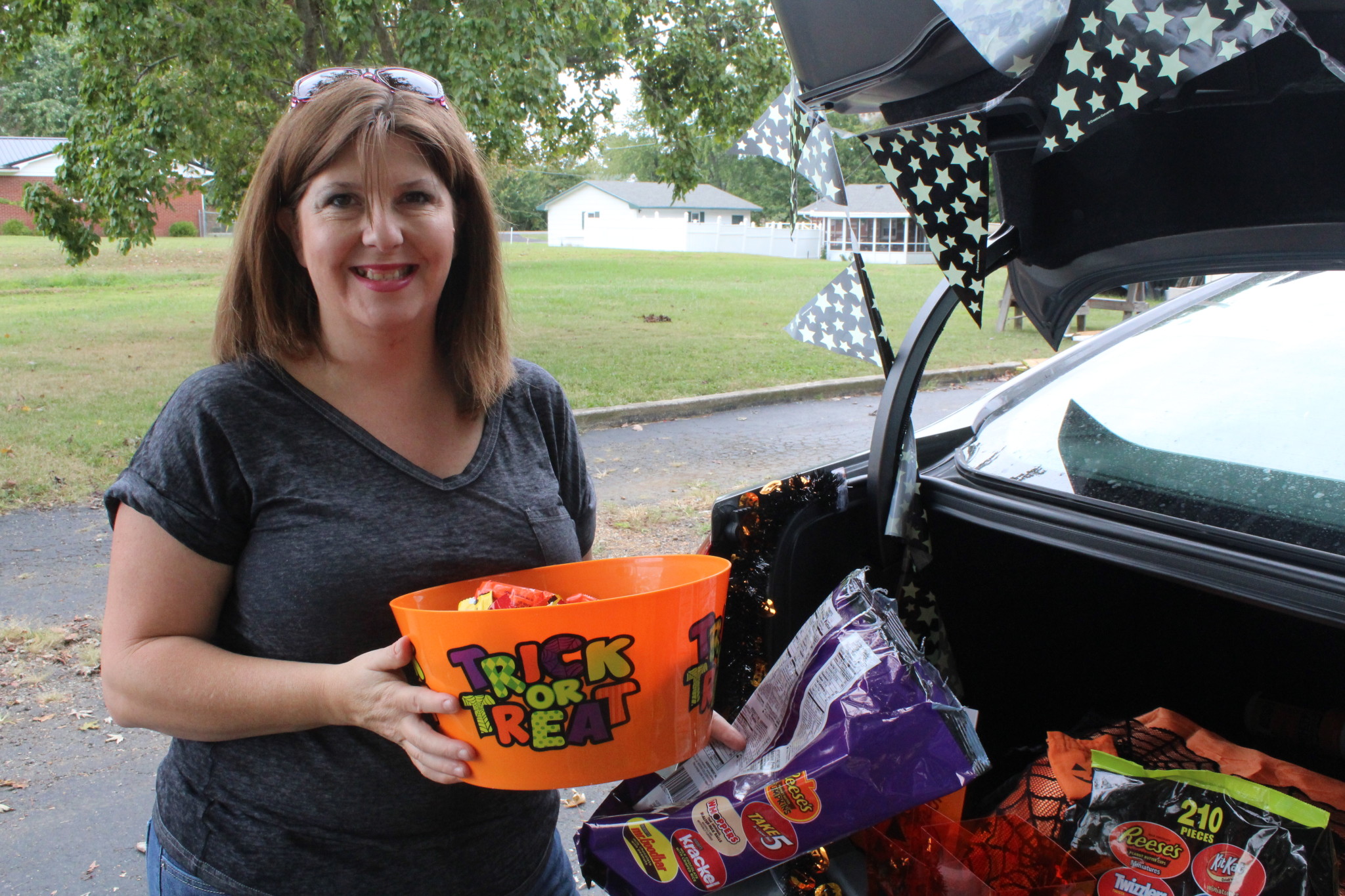 This year, I'm getting in on the fun and I thought I would show you just how easy it is to decorate your vehicle and pass out some delicious Hershey candy to trick or treaters!
Doing this is really simple and easy. I have a few step by step ideas to get you started so that when you join in on your next trunk or treat, your car will look amazing!
1. Go to Walmart and Purchase Decorations and Hershey Candy
I did all my shopping at Walmart for my decorations and candy. Hershey sells these HUGE bags of candy that are great for these types of events.
You can find them all over the store and on many end caps. They have the biggest bags there!
There are over 150-200+ pieces in each bag and they are very inexpensive compared to the smaller bags of candy that far fewer pieces in them — and you pay at least $3-5 per bag.
How to Set Up Your Trunk Or Treat
I grabbed up a bunch of dollar decorations like garland, goodie bags, little pumpkins. Then I went to the fabric department and found a couple of pre-cut clearance priced fabrics — one even had spider webs on it.
These CUTE clear pumpkin candy buffet baskets are perfect because you can fill with pretty much anything at Oriental Trading. I also picked up those Jesus candy bags as well from there.
Then, I put my laundry basket turned upside down in my car trunk so that my candy bowl would have some height and not look sunken in my deep trunk.
I covered it with the fabric and spider web fabric for a cool Halloween look!
That cool candy bucket I got for just a couple of dollars at Walmart as well,
Then, I strung up some super cool glow in the dark banners so that as it gets dark at night, my car will still shine for all the little trick or treaters to see.
Of course, as I was taking the picture, the wind started to blow, but it still looks pretty cool hanging up.
Then I took the garland that I picked up, which was SUPER cute (and I only paid $1 for and put it around the bottom of the trunk. I even got a fluffy orange ball to set it off as well.
None of this cute display can be complete without some yummy Hershey Halloween candy. The bags are big enough that you can just sit them in your trunk until you need them. Then when you are ready, open them up and pour into your treat bucket.
Be sure to check out more Hershey's Halloween Candy at Walmart. My favorite is Reese's Peanut Butter Cups — they've been my favorite since I was a little girl!
These tips will help you have a fun and fantastic Halloween as well. Now, your car won't have to look plain when you participate in Trunk or Treat.
I'd love to hear your favorite candy for Halloween? What can't you stay out of?