Tucker is my little baby. If you have read my blog for any length of time here, you know that. He has been with us now for 7 years, and I want him to stay around for at least 7 more! With the holidays quickly approaching, I was reminded of a scare we had last Thanksgiving and Christmas that made me want to remind you of how to keep your pet safe during the holidays.
Don't Feed Your Pooch Table Food
Last year, as I prepared the traditional Christmas ham that we have every year for Christmas, I was making a plate for Tucker. He eats pretty much everything we eat, so I figured having his own little plate of food would not be that big of deal.
Boy was I wrong!
I fed him several pieces of ham, along with the trimmings, and by nightfall he was in serious pain. His stomach was all tight and he couldn't lay down at all.
I started googling what I had fed him and it was then that I found out that too much ham or fatty foods fed to dogs causes pancreatitis. If your dog has never had this — be blessed.
Apparently, pork fat and other high fat salty meats can lead to indigestion, which causes diarrhea and vomiting. Heavy amounts can also lead to an inflamed pancreas, commonly known as pancreatitis. In extreme cases, the inflammation can cause the pancreas to leak digestive enzymes, which then actually digests the animal's own pancreas. If this occurs, the condition can be fatal.
I know that we are all to blame for this, but when your pet begs for the table food – say no — for their benefit.
Christmas Decorations
One thing that never occurred to me about Christmas decorations is that they can make a dog very ill or even cause them to die — especially those dreaded icicles!
I always worry about putting those on my tree because cats and dogs love to lick them and eat them. The problem happens though when they digest them. The icicles can get wrapped around their intestines causing serious problems — even death. So please — don't use those icicles. As pretty as they are, they are dangerous to your pets.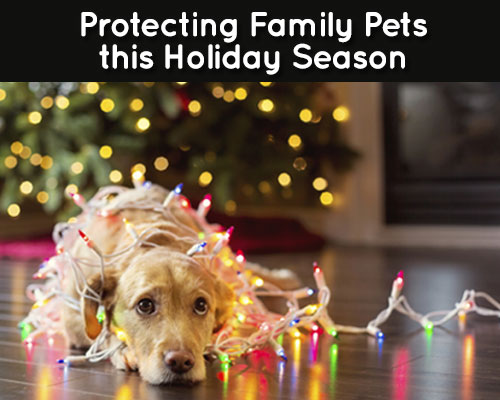 Image Credit: Protecting Family Pets this Holiday Season
Candy and Mints
In our house, we have candy dishes sitting everywhere, however I only use them for decoration and don't usually put any out. The reason for that is because most Christmas candy contains mint or mint extract which is MORE fatal to dogs than chocolate.
If you are thinking about giving your dog gum, peppermints, candy canes, etc — DON'T! They are extremely fatal to dogs. Don't hang them on the tree or place them on presents. If it is somewhere where your beloved pooch can reach, just bypass it all together.
While you are at it, keep all the candy locked in the cupboard or pantry so that they are not tempted to steal a piece from the candy dish.
~~~~~~~~~~~~~~~~~~~
Those are my tips for you from my personal experience! I hope you will be like me and pet proof your home this holiday season!
Blessings to all of you!