This post has been sponsored by PetMatrix. All opinions listed are 100% my own.
I love making doggie crafts for my sweet little Tucker. Recently we were sent some cute dog treats, so I decided to make a quick DIY Dog Treat Jar to hold all his new goodies.

Tucker is SO picky when it comes to his treats. I mean, he will turn his nose up at the most expensive treat out there if it does not meet his standards. Recently, we were introduced to SmartBones® non rawhide dog treats and I was so surprised by his reaction.
He has literally packed his new treats everywhere — even outside while he is using the bathroom! I have never seen him act this way before about any kind of treat.
About SmartBones Non Rawhide Treats
PetMatrix is committed to providing the healthiest, tastiest, safest pet chews available. The Healthy Alternative to Rawhide®, SmartBones® chews are rawhide-free, highly digestible, and 100% delicious.
SmartBones®' outer layer is made of wholesome, flavorful vegetables, including sweet potatoes, peas and carrots. This is then combined with an irresistible inner layer of real chicken, for a scrumptious taste dogs can't resist!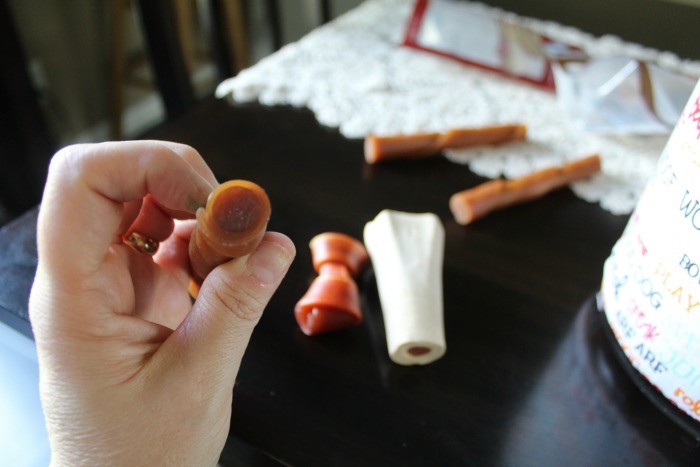 How to Make a DIY Dog Treat Jar
Okay– so here is how I made this adorable cute jar to hold Tucker's new treats.
Start with a cute jar. This one I got from the local store. It is a 1/2 gallon jar and it was around $4. Then I went to the craft department and pick up a couple of pet fabric fat quarters that were about $1 each and of course the glue that holds every craft together– Modge Podge.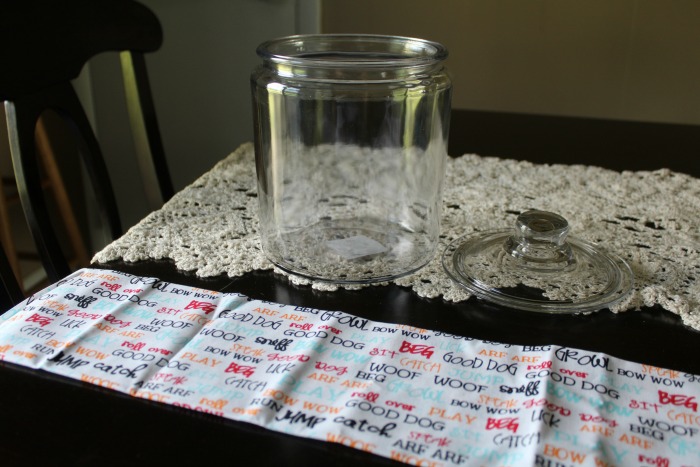 Simply pour some Modge Podge on a plate and then cut your fabric as wide or as slim as you want. I like mine wide, almost the whole width of the jar.
Once you cut it, take your Modge Podge and paint it onto the jar whatever the width of your fabric is.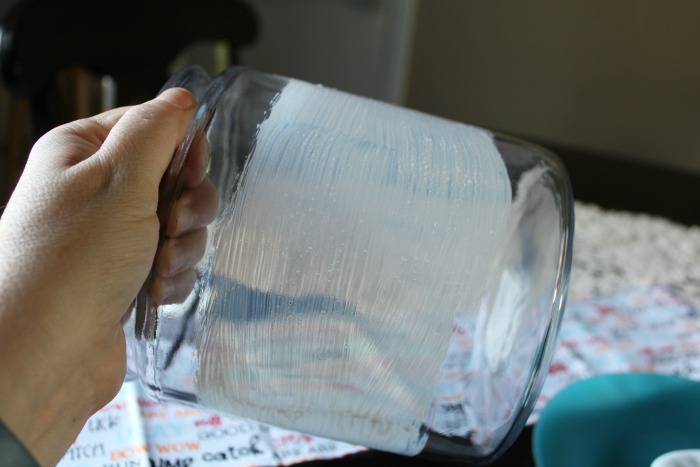 Then take your fabric and lay it into the Modge Podge and using your brush, paint it on until it sticks good.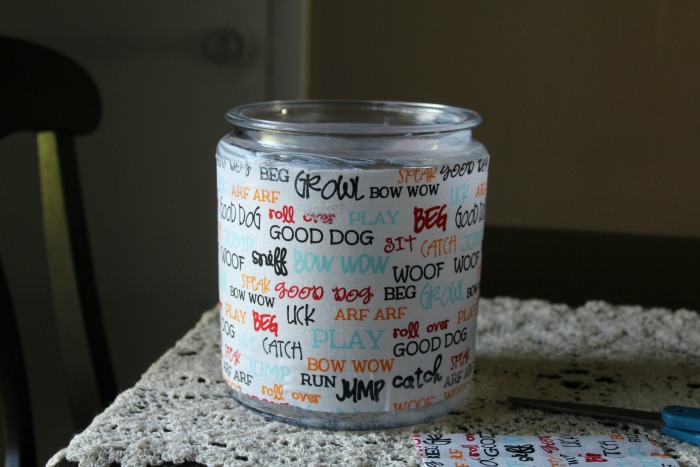 Sit it down and let it dry — takes about 30-45 minutes. While it is drying, you can cut out some paw prints from another fat quarter and do them the same way for the lid.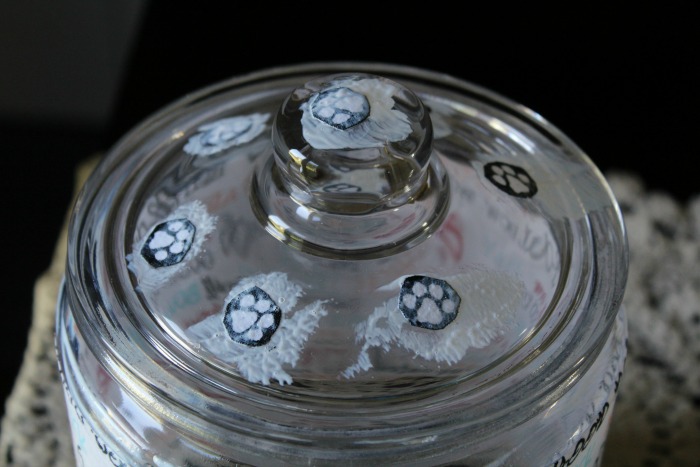 Once everything dries, take the lid off and pour in all your yummy dog treats. Tucker has 3 or 4 new flavors thanks to SmartBones but his favorite are the little bones.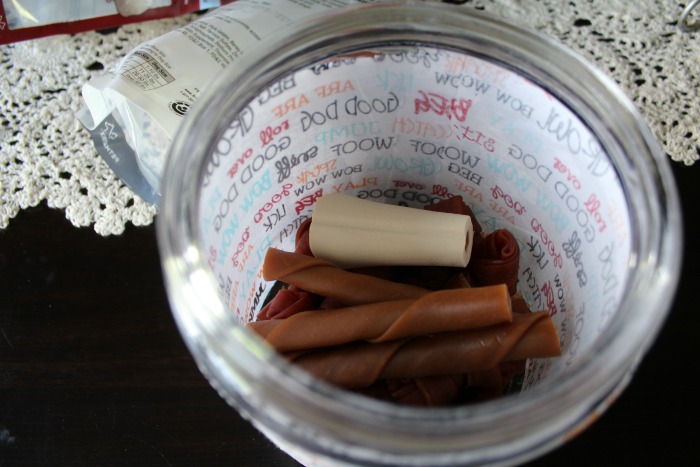 Then just set it on the counter and when your fur baby wants a treat, you can give him one!
What I Learned About Rawhide Treats
I used to give Tucker rawhide treats, but now after learning some things about the danger of giving them to your dog, I will never do that again!
Rawhide is the inner hide from a cow or other animal that has undergone chemical processing to remove hair and other materials. The rawhide is then ground or used whole, and is formed into various dog chews shapes.
Many veterinarians are concerned with the potential health risks associated with dogs consuming rawhide. These health risks include: stomach & intestinal blockage and potential ingestion of toxic chemicals used to process rawhide chews.
In addition, there are serious negative environmental issues generated by the use of chemicals in processing rawhide products.
Enter to Win
One lucky reader is going win a $25 Visa Gift Card and some delicious SmartBones treats for your dog. Use the form below to enter.