This shop has been compensated by Collective Bias, Inc. and its advertiser. All opinions are mine alone. #LoveTheseCleanPaws #CollectiveBias
My daughter is one of the most talented young ladies that I know. She has a gift for art that is unbelievable. In her spare time, she has been making these adorable cat paintings that really set off a room and from those paintings you can tell just how much she loves animals.
We have two cats in our home — Boots and Mittens. Both of them are equally loved, but Mittens is Kayla's cat that she rescued almost 5 years ago. Her story is one that is heartbreaking but the love in her rescue story will make your heart melt.
Boots is my mother-in-law's cat, but he has adopted my daughter as his love buddy.
Kayla is all the time either drawing her cat, or painting her, so today, we thought we would share with you exactly how she does it. These are simple and easy to do — even I can do them and I have NO artistic ability in me at all. In fact, I made THIS painting when I went to a pet conference last year.
How to Make a Fun Cat Painting
Start with a fresh white canvas and a pencil
The first thing you want to do is to take a pencil and lightly sketch out what you want your picture to look like. My daughter is always sketching something. And of course, the cat is always nearby watching whatever she happens to be doing at the moment.
Freehanding your picture this way will let you get all the details in the photo you want.
Add background color around your sketch
At this point, this is where the fun begins. You can take several colors and using a wide paintbrush, brush the colors onto your canvas in the places you want them. Then, once you do, you can brush them together to create an ombre effect. You don't need a whole lot of paint to do this.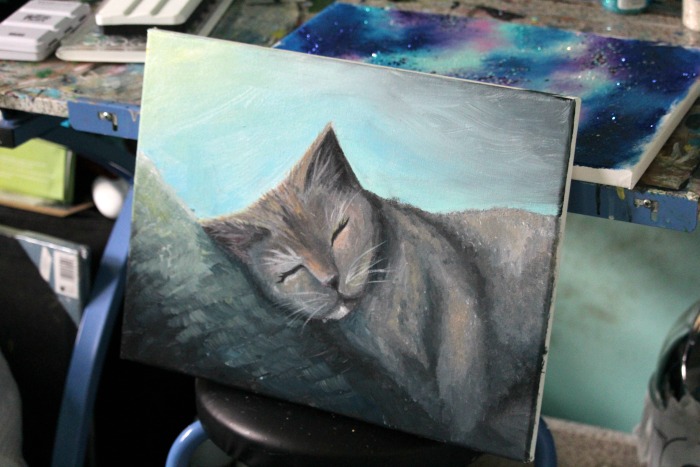 Next, paint your cat the color that you want
Kayla usually paints them as the color of her cat Mittens. To create the fur effect, use the edge of your smaller paintbrush to create a furry edge. Just dab it along the edge of your outline. It will create the perfect furry touch you are looking for.
Add in any extras you may want
Kayla loves adding a special element into each photo that she does. For this photo, she decided to add in a cup of iced coffee since that is her favorite drink.
For her grandmother's cat, she made him with a cup of hot coffee because she loves drinking coffee every day. She gave this painting an extra effect by using the bottom of the coffee cup to create fun circles all over the painting.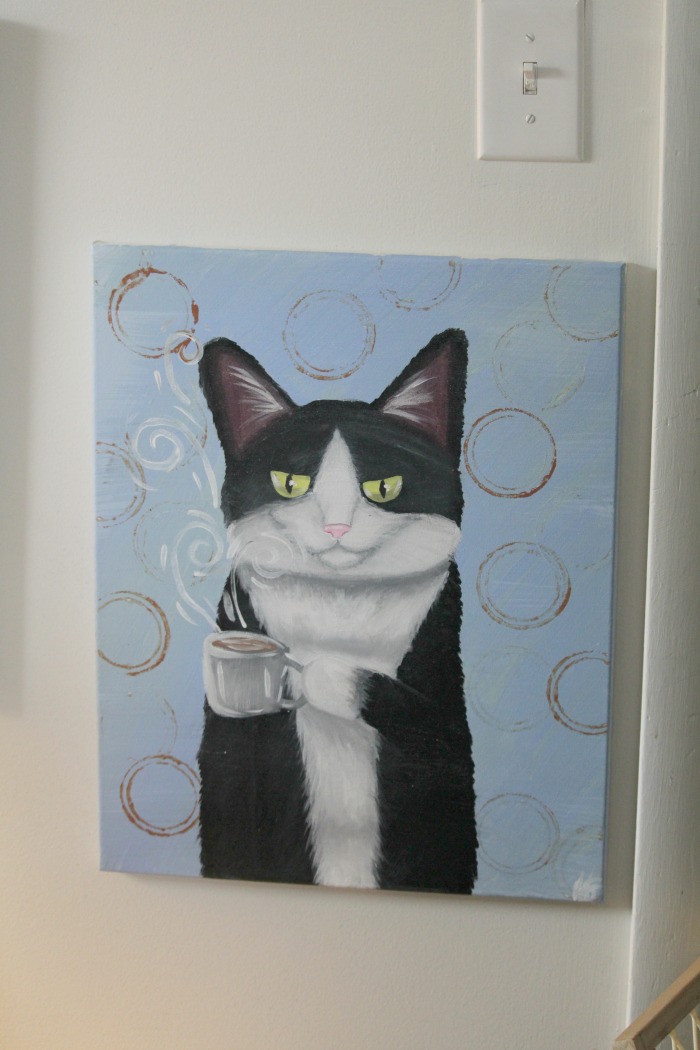 Hang in Your Room For All to See
Once you get the painting done, hang it in the room for all to see. Kayla hung hers in Mitten's cat corner that we recently created for her. The corner is complete with toys, food bowl, cat scratcher, and a litter box full of the new Fresh Step® Clean Paws™ Multi-Cat Scented Litter with the power of Febreze™.
We picked up this new litter while shopping at Target recently. I went in to get a few other things and remembered that we were low on cat food and litter, so I grabbed a box and threw it in the buggy and headed to check out.
Since Mittens sleeps in Kayla's room, she is always trying to keep her area clean. Even though we have taken the extra steps to keep her litter in the box, she always drags it out no matter what we do. But with the new Fresh Step® Clean Paws™, not only does it keep the cats paws clean with low tracking litter, but it will also help keep the room clean as well.
It is a low dust formula and eliminates odors from all 3 sources: urine, feces and bacteria — and has a 10 day odor control guarantee.
Now that you know how to create a fun cat painting for your room, get creative! Don't say "I Can't" without giving it a try. It's really not as hard as you think.
Febreze and the Febreze Freshness logo are registered trademarks of The Procter & Gamble Company, Cincinnati, Ohio used under license by The Clorox Pet Products Company. © 2018 The Clorox Company.