These CBD Chocolates were made in collaboration with Veritas Farms. All opinions are 100% my own.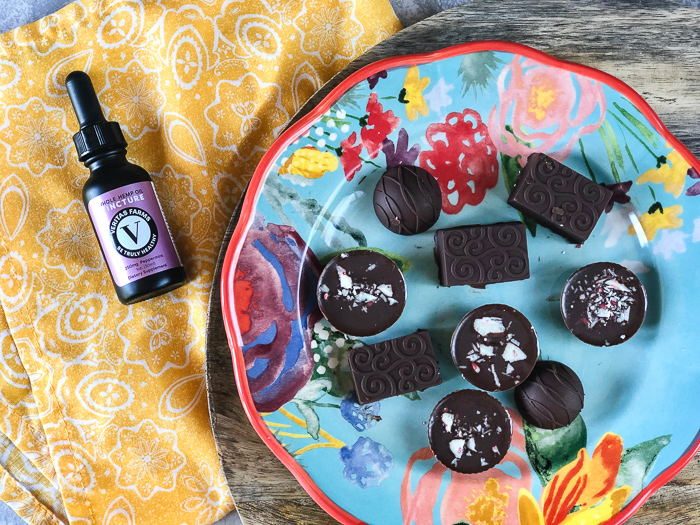 Everyone loves chocolate right? In fact, it is everyone's favorite dessert, especially for me and my family. A few of my friends have started taking CBD oil to help with anxiety and moods and to also help with sleeping better.
Since being introduced to it, I decided to do some research to see what all I could make with it. One of the most popular was CBD Chocolates and ever since the first time I made these yummy treats, it's been my favorite way to get my daily dose of cbd oil.
What is CBD oil?
If you're new to CBD oil like I was, let me explain exactly what it is.
Cannabidiol, known as CBD, is one of 104 chemical compounds found in hemp. Let me be the first to tell you so that you can let out a sigh of relief like I did — CBD oil will not get you high.
This oil only has a small trace of THC in it — a mere .3%, which is the main psychoactive cannabinoid found in cannabis. It doesn't make you feel crazy different. More details about this oil can be read and learn at AllbestCBDoil.com.
What is CBD oil used for?
CBD oil is known to help with many different ailments including:
anxiety
depression
trouble sleeping
pain
acne
cancer related symptoms
heart health
My friend uses it because she suffers with anxiety. But did you know that they also make CBD oil for pets too? Yes — even Tucker takes CBD oil!
How do I take CBD oil?
The best way to take CBD oil is by putting a few drops under your tongue. Doing it this way will remove the aftertaste you might get if you are not used to it.
You can also put it in your water, smoothies, or in any food you eat. Sometimes I put it in my Strawberry banana smoothie that I make for myself.
I get asked where I buy my CBD oil since there are a good amount of companies that sell it now. You have to be careful because there are some that sell fake CBD oil.
Also, do your research first before buying! There are many sellers out there so always do thorough research on the various top CBD oils as we do not want any other harmful substances to enter our body.
Where to Buy CBD Oil
My favorite supplier is
Veritas Farms
and it's also what I give my dog. The price is pretty affordable and you get high quality product.
Veritas Farms makes full spectrum
cbd products
for a happy and healthy lifestyle.
Their philosophy is simple:

1) Provide the purest, quality hemp oil products with transparency and passion.
2) Educate the community about the benefits of cannabinoids.
3) Protect the earth in the process. They consider the triple bottom line in all decisions they make. Equal importance from the plants they grow, the people they help and the money they save.
I really like their products best and I trust them because they practice sustainable farming methods — meaning I am not going to be getting a lot of pesticides and chemicals in the products I buy from them.
How to Make CBD Chocolates
There are a few things you will need when making these delicious cbd chocolates.
SUPPLIES
1 10 ounce bag of dark Chocolate chips
1/2 cup Coconut oil
Molding trays
Measuring cup
I used dark chocolate morsels for my chocolate chips but you can use any kind of chocolate. I also use peppermint candies that I got from the baking aisle to add a little depth of flavor to the chocolates.
Yield: 24 chocolates
How to Make CBD Chocolates
These cbd chocolates are perfect for relieving stress and anxiety.
Total Time
2 hours
5 minutes
Ingredients
Veritas Farms CBD oil
1 10 ounce bag of dark Chocolate chips
1/2 cup Coconut oil
chocolate candy Molding trays
Chopped up candy from the baking section at the store (optional and any kind you want to use)
Measuring cup
Instructions
In a measuring bowl, melt your coconut oil and chocolate chips until melted through. I like to do it in the microwave in 15 second increments. Be careful not to burn the chocolate or it will seize up.
Let the chocolate cool for 10 minutes

Once cooled, add in the CBD oil. You can choose how much you want to add but I did 6-8 drops. Place the chocolate in a measuring cup.

Pour the chocolate mixture into your candy molds. Only fill the molds 3/4 full.

Sprinkle the chopped candy on top of the chocolate.

Place the molds in the fridge for 2 hours then they are ready to enjoy! It's best to keep the chocolates refrigerated because they will get really mushy or melt if left out too long.
Recommended Products
As an Amazon Associate and member of other affiliate programs, I earn from qualifying purchases.
Nutrition Information:
Yield:
24
Serving Size:
1
Amount Per Serving:
Calories:

113
Total Fat:

9g
Saturated Fat:

6g
Trans Fat:

0g
Unsaturated Fat:

2g
Cholesterol:

1mg
Sodium:

3mg
Carbohydrates:

8g
Fiber:

1g
Sugar:

6g
Protein:

1g
How Many Chocolates Can I Eat?
I would not eat the entire 24 chocolates in one sitting. These are more like a couple a day and that will give you just enough CBD. I wouldn't eat them all in one sitting since that is a lot of CBD oil at once. Best to be safe! However, they make the perfect dessert to share with a friend!
The benefits of CBD oil are too great to pass up. If you get a headache, take some CBD oil. Trouble falling asleep? You know what to do. It's a natural product that can help you, why wouldn't you give it a try?
Have you ever had CBD oil? What are your thoughts about it?