I love making things homemade. I have found recipes for homemade condensed milk, homemade boxed cake mixes, and more. I recently discovered that I can also make homemade brown sugar at home. I don't know about you, but I am always running out of brown sugar. Now I don't have to worry about it anymore.
Looking for more easy recipes? Check out my huge database of delicious, homemade goodies.
The flavor of fresh, homemade brown sugar doesn't even compare to store-bought brown sugar, especially in cookies or on top of fresh fruit, or delicious coffeecakes. The flavor is more intense and more — richer.
Here is how you can make your very own homemade brown sugar as well.
Homemade Brown Sugar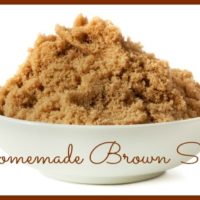 Ingredients
1 cup granulated sugar
1-2 tablespoons molasses, depending on how dark you want it
Instructions
In a medium bowl, add molasses to sugar and mix with a fork or using a stand mixer fitted with a whisk attachment, working up to high speed, until no big clumps of molasses remain.
It may take several minutes, but it will work out the clumps. Just be patient.
Store in an airtight container and use when you need brown sugar for a recipe!
Like I said, it is super simple, delicious, and so amazingly richer than that stuff in the bag!
What is your favorite homemade kitchen staple?