When I visit a Mexican restaurant or even O'Charley's for that matter, I love the Queso Dip that they serve. I recently found an easy version for making this right at home — and if I can do it, anyone can do it!
Queso Dip is not only good for dipping tortilla chips in, but it is also amazing on sandwiches, tacos, burritos, and more. I even drizzle some on my hamburger!
How to Make Queso Dip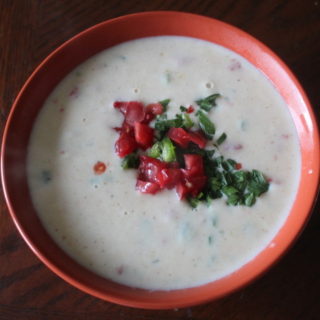 Ingredients
1 tablespoon canola oil
1/4 cup diced white onion
1 medium jalapeño, diced
1 medium poblano pepper, roasted and diced
10 ounces white American cheese, shredded - I buy mine from the deli counter
6 ounces Pepper Jack cheese, shredded
1/2 cup heavy cream
1/3 cup freshly chopped cilantro
1 roma tomato, seeds removed and diced
Instructions
Heat canola oil in a medium sauce pan over medium-high heat.
Cook the onion and jalapeño pepper until softened and reduce heat to medium-low.
Stir in the roasted poblano pepper. Add the shredded cheese and heavy cream. Stir until mostly melted.
Stir in the tomatoes and chopped cilantro. Serve with chips immediately.
If you want to keep it melted and ooey gooey, simply make it in your crockpot.
There is nothing complicated about this Queso Dip. It is the easiest recipe on the planet — even little kids could make this!
The dip takes 10 minutes to make, which makes it perfect for parties, get togethers and game day. You can reheat the cheese in the microwave, but if you are going to serve this Queso Dip at a party, I highly recommend you serve it in a crockpot so you don't have to worry about heating it up again and again.
The crockpot will keep the cheese melted and smooth. The dip isn't spicy, but has a nice flavor. You can spice it up with extra jalapeno on top (like I did) or sprinkle a little cayenne on top.