One thing I love eating when I go out to a restaurant is mushrooms. I eat them on EVERYTHING. I love having spaghetti with mushrooms on top, a mushroom and swiss burger. I even like mushrooms on my steak. Heck — when we go to Texas Roadhouse, I eat them as a side dish. However, if you don't saute them just right, they taste horrible. Here is my no fail — How to Make Sauteed Mushrooms recipe. It leaves you with delicious tasting mushrooms every time — and you can skip buying the canned version.
How to Make Sauteed Mushrooms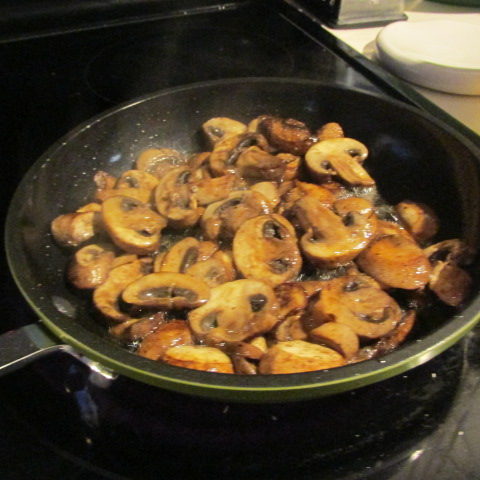 Ingredients
1/8 cup vegetable oil
1 teaspoon chopped garlic
1 cup cleaned portobello mushrooms, you can slice them if you want
1 tablespoon butter
1 tablespoon chopped thyme leaves
Salt and freshly ground black pepper
Instructions
Heat a large skillet to high heat and add the oil. Wait 1 or 2 minutes for it to come up to the smoking point.
Add the garlic and toss it constantly so that the garlic doesn't burn.
Add the mushrooms and toss until all mushrooms are golden brown and caramelized. Remove from the heat.
Add butter and thyme and season with salt and pepper, to taste. Serve immediately.
I have fixed sauteed mushrooms both ways — whole and sliced. If I am having steak, I like them sliced. Now — please make sure when you are sauteing them, you get them golden brown. Do not leave them tough and regular colored.
The kind of pan you use makes a huge difference too. I have an Ozeri Green Earth Frying Pan that helps balance out the heat when sauteing something. It makes all the difference in the world when it comes to cooking.
My Favorite Things About the Ozeri Green Earth Frying Pan
the Ozeri Green Earth Pan utilizes GREBLON – an ultra-safe ceramic coating from Germany which is 100% PTFE and PFOA free.
Innovative textured pan surface delivers enhanced heat distribution and superior non-stick performance without ever releasing harmful fumes or toxins.
Features a scratch-resistant 100 percent ceramic coating that is super easy to clean.
Made out of durable heavy-gauge die-cast aluminum with no heavy metals or harmful chemicals.
Boasts a comfortable heat resistant silicon coated handle
and a magnetized induction stove safe base for rapid heat transfer.
Be sure to check out Ozeri on Facebook. They have a lot of products that are useful and helpful for your home.