This shop has been compensated by Collective Bias, Inc. and its advertiser. All opinions are mine alone. #DymoandDone #CollectiveBias
I just finished my taxes for the 2015 year and let me tell you — it took me over a week to organize all my paperwork. IT. WAS. A. NIGHTMARE. After that fiasco, I promised myself I would find an easier way to organize tax documents. I have — and it all starts with DYMO LabelWriter® 450 Value Pack.
My old way of filing was using brown manila envelopes and stuffing them full of receipts per month — which honestly is not working for me.
I found a new way simply by using a binder, some sheet protectors, folder dividers and the DYMO LabelWriter® 450 Value Pack.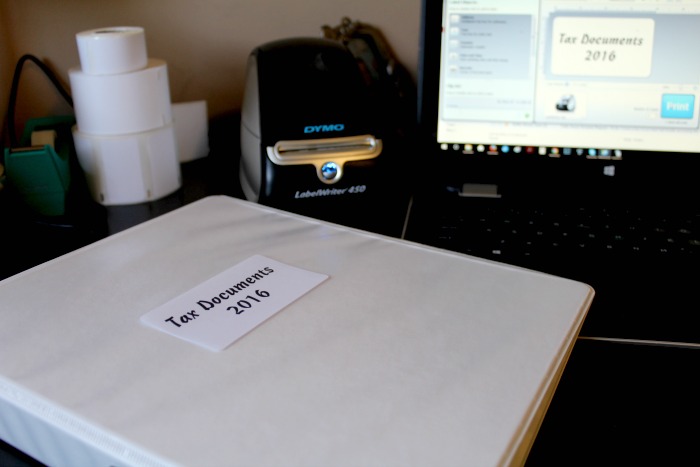 This is the perfect solution for your labeling, filing and mailing needs, because the LabelWriter® 450 saves you time and money– all without the hassle of printing sheet labels on a desktop printer. In fact, the DYMO LabelWriter® 450 Value Pack is now free when you purchase 4 LabelWriter label rolls!
One of the number one things I always forget to do as a blogger when it comes to recording things for tax time is to count my mileage and my gas. Yes — I know. I am supposed to be more organized, and I thought I was, until I made a few changes this year and I really feel like it is going to allow me to be more organized.
For starters, I created this free printable document which helps me record all my expenses for each paid blog post that I do.
Just click the graphic above or click here to download your free printable.
I love that the DYMO LabelWriter® 450 that I picked up at Staples offers me all the label making I need.
The value pack that I got comes with the label maker itself, as well as 4 different label versions.
Appointment Card labels
Address labels
Multi purpose labels
Large Shipping Labels
By offering me all the different sizes I need, I can quickly change out the labels and print exactly what I need — without having to print out 1 whole sheet of the same labels. (that was so last year, right?).
With they DYMO, you can create over 60 different label styles and layouts as well as crystal-clear barcodes, labels and graphics with 600 x 300 dpi resolution. You can create directly from text in Microsoft® Word, Excel®, Outlook®, QuickBooks® and other programs or easily print addresses from Outlook® Contacts or Mac® Address Book
The DYMO LabelWriter® 450 is also a thermal printer, which means I never have to replace toner and ink. Those things can get expensive, especially when you are printing a lot of labels — like I do.
The DYMO LabelWriter® 450 Helps Organize Tax Documents
So let's take a closer look at my new tax document binder and how it is really going to help me become super organized for this 2016 tax year.
For starters, I added file folders inside. Each one is labeled for a section of my office. I have so far the following —
Travel
Expenses
Home Office
Income Reports
Payroll
Each section is labeled using the DYMO LabelWriter® 450 which is going to help me to stop procrastinating at putting away my receipts and this in the long run will save me time and money.
Right behind each folder tab are sheet protectors, and I use this to store all my receipts for each category. I am especially happy about this in my travel section because in the past, when I have come home from a trip, I have taken all my receipts and just threw them in the month folder.
Then I couldn't remember which conference they belonged to, etc. But now, because I have labeled the sheet protectors ahead of time with the conferences I know I am going to be attending, I can add my invoice and receipts right as soon as I get home.
I got all of my receipts and everything organized and it is all tucked away nice and neat and super organized in my tax binder for the year.
I know it's super early to be talking about staying organized for tax season, but I have learned that if I start from the beginning, and keep myself organized, I spend less time trying to get things together.
I do not want another repeat of last year.
You can be organized too. Simply pick up a DYMO LabelWriter® 450 at a select Staples store or just go online and purchase the value pack!
How do you get organized for tax season?