I love garlic. There is just something about the aromas of a head of garlic roasting that make me want tons of pasta and more! Not everyone understands about how to roast garlic. It's not hard at all, and after roasting it, it becomes this wonderfully sweet flavor!
Looking for more easy recipes? Check out my huge database of delicious, homemade goodies.
How to Roast Garlic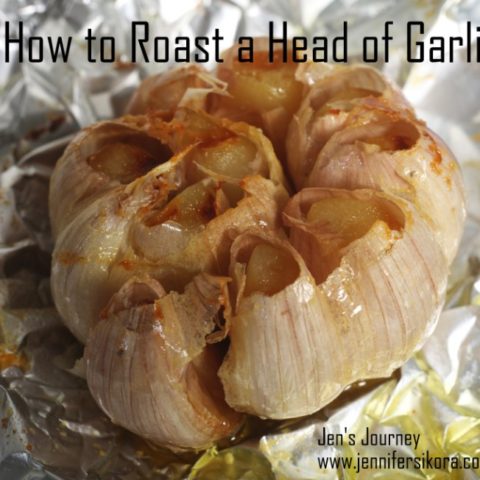 Ingredients
1 garlic bulb
2 tablespoons olive oil
1/2 teaspoon kosher salt
1/2 teaspoon freshly ground black pepper
Instructions
Preheat oven to 400º F.
Slice the top end off of the garlic bulb about 1/4-inch. Place the garlic bulb on a sheet of aluminum foil.
Drizzle with olive oil and sprinkle on salt and pepper.
Fold the foil to form a cocoon around it and place in the oven for one hour.
Remove from the oven and allow to sit for 4-6 minutes. Then, remove garlic bulb from foil packet.
Squeeze garlic bulb at bottom end to remove garlic cloves from the bulb.
Use for any purpose where garlic is required.
Word of warning to you! If you eat a lot of garlic, it will come out of your pores and make you SMELL like garlic, so be very careful how much you use and how much you eat, because when you get done roasting it, you will definitely want to eat it!
What are your favorite recipes for using garlic?