The coupons for product redemption, information, and gift card have been provided by Brownberry® Bread so that I could try the product and share my thoughts and information about Brownberry®. The opinions expressed in this post are my own and do not reflect the opinions of Brownberry® Bread." 
Have you ever looked at the amount of money you spend on food when you are traveling from one destination to the other?
I counted up all the times we stopped a few years ago when we drove to Orlando and between the 4 of us, we stopped a total of about 5 times. Just on the way down, we spent well over a $100 dollars. I decided that this year, when we travel, we are going to try and save a little money and this is how we are going to do it.
Save Money on Food When Traveling By Packing Meals
Since my husband and I are really trying to eat healthier, it doesn't do us any good to stop a lot and eat while traveling, so this year, we are going to try and pack our meals ahead of time.
Now, what this means, is that I will be finding items we love to munch on that is healthier than the gas station snacks, and the fast food dinners we have been used to in the past.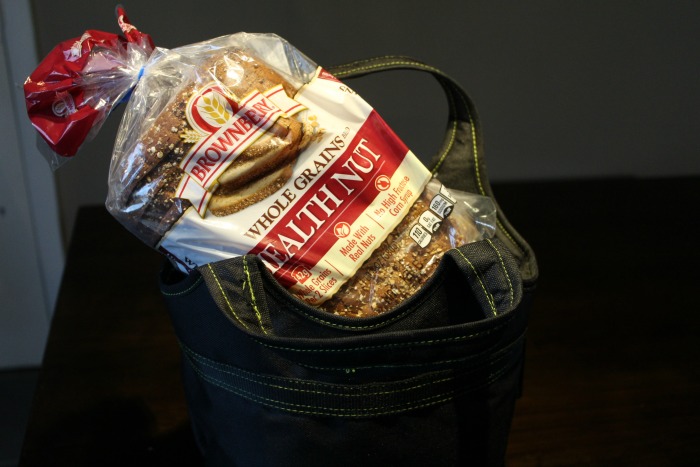 Brownberry® Bread is definitely where I will be starting. Brownberry® Whole Grains 100% Whole Wheat sliced bread is premium bread with a whopping 23g of whole grains per slice!
It has 100 calories per slice and has 3 g of fiber per slice. Brownberry® Whole Grains 100% Whole Wheat sliced bread has no high fructose corn syrup or artificial colors or flavoring.
By making us some sandwiches ahead of time, then I can cut down on the money we spend eating out (which definitely means more money for me in the long run to spend on shopping!)
Packing Your Own Food Means Family Time
When we pack our own food, then we get to stop somewhere along the way and picnic. For me, this is great bonding time because we don't have to fight with the sounds of a restaurant or anything like that. We get to stop somewhere we have never been before, take in the beautiful surroundings and enjoy a lunch or snack with my family.
Pack Good for You Snacks
Instead of loading up on chips and soft drinks at the gas station when we stop for gas, I am going to be packing a few healthy choices instead. I will be adding in some bags of granola, chopped fruit, some yogurt, protein bars, and lots and lots of water.
By following just these two ideas,  then not only will our family be saving money in the long run, but we will also be saving calories and eating healthier. Brownberry is the perfect bread choice when you want to provide a much healthier sandwich choice.
Brownberry® bread is available in the Midwestern U.S. and can be found across the Eastern U.S. as Arnold® bread
How do you save money on food when you are traveling?