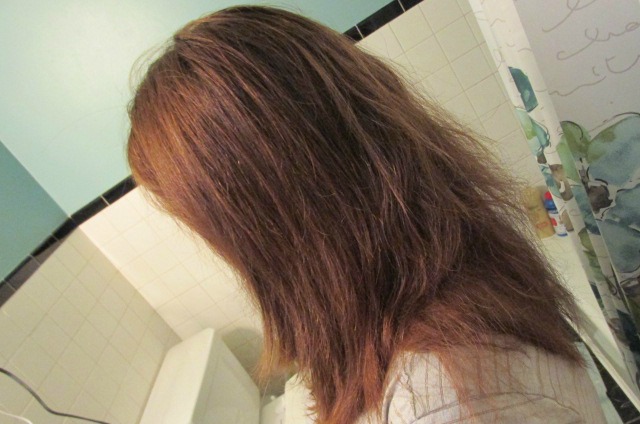 Every woman's routine for getting ready in the morning is more or less the same, get up, take a shower, pick out an outfit and do your hair and makeup. Makeup may take quite a really long time depending on the type of beauty appearance you want for the day. Getting your hair done also takes quite a while especially for the curly haired types. Sometimes, in case you are running late, one may opt to just hold the hair up in a messy bun or in a simple ponytail and rush out to beat traffic and get to the place of work or school on time.

One easy way to create a simple yet classy and elegant look in case you do not have that much time is simply to straighten your hair using various tools such as flat irons or a straightening brush which are both really convenient to use and get the job done really fast.
Using a flat iron
Wash and condition your hair
The first step is to wash your hair which you can easily do while taking a shower. This will help to get rid of any dirt or grime that may be stuck in your hair. It will also leave your hair smelling really nice especially if you use a scented shampoo, for instance, one that smells like wild berries or coconut.
Gently massage your hair with your shampoo and ensure that you use warm water in this process. This will protect your scalp and will ensure that you will not strip out the natural oils in your hair which would lead to its drying.

After rinsing off the shampoo, apply conditioner to your hair and then comb it using a wide tooth comb. This will help you to gently ease out the knots in your hair without yanking strands of it and will detangle it leaving all the strands loose and free. Rinse gently with warm water. You may opt to apply a leave-in conditioner to your hair which will protect it from the heat.
Dry your hair
In order to save on time, consider drying your hair through the use of a towel or an old t-shirt before blow drying it. Be gentle as you do so though, to avoid losing unnecessary strands of your hair or to create frizz in it. Pre-drying your hair using a piece of cloth will save you time since it will help you wring out the excess water from your hair making it very easy and fast to blow dry.
Prepare to straighten your hair
Comb the hair using a wide-toothed comb, again, to avoid tangling. Afterward, prepare your hair by applying a heat protecting product on it. This you may do in the event that you had not put leave-in conditioner on your hair. You may apply natural oils on it or you may apply gel which will give it a smooth shine in addition to offering heat protection. Natural oils also nourish your hair by offering the necessary nutrients required for healthy hair and promotion of hair growth.
Blow dry your hair
After you have applied the necessary products blow dry your hair using low heat in order to dry it completely. Afterward, divide the hair into four parts and hold them up using hair clips or scrunchies. Dividing the hair will make it much easier for you to straighten your hair in parts without much difficulty.
Carefully use the flat iron to straighten your hair
Before flat ironing, consider your hair texture and volume. This will act as a guideline and will help you exactly to identify the amount of heat level that you require to straighten your hair. If you have fine hair, use a low amount of heat since you want to protect your hair and you do not want to apply unnecessary heat and cause damage.
Therefore, once you have achieved this, carefully use the flat iron along the length of your hair. Do so in order of the four parts that you had split your hair into. This will help you to ensure that you get all the hair evenly straightened and looking great.
 Using a straightening brush
Straightening brushes are relatively more convenient to use and get the job done much faster. The advantage of straightening brushes over flat irons is the fact that they have high-density teeth which help to get deep into your hair strands and straighten your hair much faster and with ease. They are ideal for all types of hair, be it super curly, wavy or straight. It will just be like brushing your hair but instead, you will be achieving the effect of straightening it at the same time.
To use this brush, all you have to do it follow the same steps as you would while using the flat iron. Wash and condition hair, dry it, applying heat protection products and use the brush to straighten the hair.
Using a brush will thus save you so much time in the mornings or even when you are getting ready for a night out with the girls. One major concern that I know you may be worried about is whether or not the teeth may burn your scalp. Worry not, because good quality brushes have protected teeth tips which have no negative effects on your scalp. Moreover, most of these brushes also come along with a safety glove, and thus you will not have to worry about burning your hands in the hair straightening process.
Where to get a straightening brush
These brushes are available in your local cosmetic shop as well as on online websites which sell them at an affordable price. Ensure that you read multiple reviews of people who have used different sets of brushes and get to know their opinions on the products. This will help to ensure that you invest in a good quality, straightening brush which will meet all your expectations and will enable you to get the look you desire, all in a few minutes so as to save you time.