I am loving this new fashion series I discovered between my fashion blogging friends. Each month, we are sent a style and then we, as best as we can, try to recreate it and find a new way to wear clothing we would not normally wear.
This month, we were given the style choice of mixing pops of color with different patterns. This is the original photo "Because Shanna Said So".
This picture really inspired me to try mixing and matching colors and patterns. For me, I have always stayed colors with color — black and gray, chocolate and tan, etc.
For today, I mixed and matched black leggings with tan boots, a coral top and two different scarves. Yes – it sounds weird, but the outfit totally rocked!
The top I picked up at a garage sale for .25. It has a paisley design on it. The colors on the top are just gorgeous!
It has a mixture of different patterns on it. It is filled with corals, browns, blacks and white .
When I added in the two different scarves, I wasn't for sure how it was going to look, but I loved how it turned out.
The leggings I picked up on Thred Up. If you have never checked them out, I suggest you try them. Last month I stumbled upon someone's blog who was talking about so I check it out and bought me several items and fell in love with them all!
The boots are from Kohl's. I got them on clearance about 3 years ago and only paid $7 for them. The brown and the black contrast go great together.
For my jewelry, I mixed silver and gold as well as coral and blues. It looked so pretty!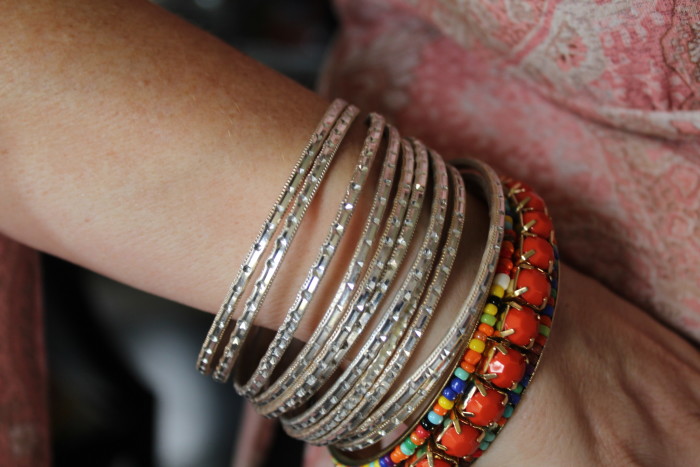 I can't wait to see what next month's inspiration is. If you want to see what the other bloggers in this group put together, check out the list below —