I am part of the Dayspring Affiliate Review team. All opinions listed here are 100% my own.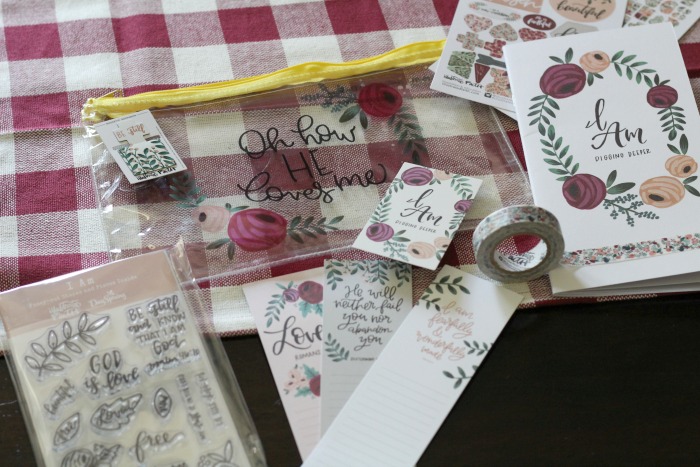 For the last 10 years I have been on a journey of sorts. It started so many years ago when I started having an identity crisis. I mean, when I sat down and thought about it, I kept asking myself who I was — and in the answer, all I could come up with was– wife, mom, homeschool teacher, stay at home mom – and none of those, while amazing titles, was hitting home with me. I felt lost and out of control — have you ever been there?
It wasn't until God really got a hold of my heart and started asking me to look deeper within myself and to really focus on WHOSE I was, that I truly discovered WHO I was. It took a while, but once I settled on the answer to that question, everything else in my life started falling into place.
I think that is why I am so excited about this month's Illustrated Faith Bible Journaling Kit from Dayspring — I AM.
I AM Bible Journaling Kit from Illustrated Faith
Out of all kits I have received, this one has hit home the closest for me simply because this was an area where I struggled for so many years.
I love all the pieces that come with this kit — and each piece is super colorful making my Bible Journaling mornings that much more fun.
This kit contains:
1 plastic pouch
1 devotional booklet
1 clear stamp collection
1 roll of washi tape
1 sheet of cut-out paper pieces
2 cardstock sticker sheets
3 tip-ins
1 magnet
1 thank you card from Shanna
One of my favorite things about these Bible Journaling Kits from Illustrated Faith are the devotional books that come with the kit.
This month's is entitled "Digging Deeper", and with the very first entry, I knew that this was going to be a doozy. The first one got me all in my feels and made me really focus on my fear of never being enough.
Many times, when I feel God calling me to do something — like me writing a book — I find myself being paralyzed by the what ifs in life.
~What if I write it and I fail?
~I am sure there is someone better than me that can do this.
~Who am I to write something like this?
God always gently reminds me that I AM ENOUGH. I AM GOOD ENOUGH. I don't have to worry about trying to compete with someone on a bigger platform. My job is to be the best ME He created me to be and to do what He has called me to do. Sometimes that can be hard when I forget who I am in Him.
But when I remember — nothing is impossible 🙂
You can grab this month's I AM DIGGING DEEPER kit by clicking here.
Check out Shanna's New Cards!
Shanna Noel, creator of Illustrated Faith, designed a line of greeting cards with DaySpring (and they are oh, so cute!)
I love getting greeting cards in the mail. In this day and age, sending a card through the mail is a lost art. When I actually get one in, I post it everywhere for everyone to see. There is just something special about a personal note from someone.
Because of that, I am going to try really hard to make it more intentional to send personalized cards myself, and you can do that with these because the insides are completely blank!