All travel for this event has been covered by Disney. All opinions about the movie however are 100% my own.
I am TOTALLY excited about my next travel adventure. Me and 24 other bloggers will be heading out to L.A. in 16 days to promote the new movie Tomorrowland. I have never wanted to see a movie so bad like I do this one and I get the awesome privilege of getting up close and personal to learn more.
The Talent
I'll be traveling to L.A. May 6th-May 8th to promote the movie (which hits theaters on May 22). Of course my fingers are crossed on who we get to interview! There is SO much talent in this movie — George Clooney (swoon), Hugh Laurie (double swoon), and y'all Tim McGraw (triple swoon)! 🙂 🙂 🙂
Not sure yet who we are going to interview, but I am sure hoping that at least one of the ones I mentioned above will be there! I've been a long time fan of each of those actors and really respect their work.
The Story Behind the Story
Also while there, we will be visiting the Disney Archives to learn about Walt's vision of "Tomorrowland", and of course, a trip to learn about this would not be complete without a trip to Disneyland. YES! My first adventure to anything Disney 🙂 I am SUPER pumped!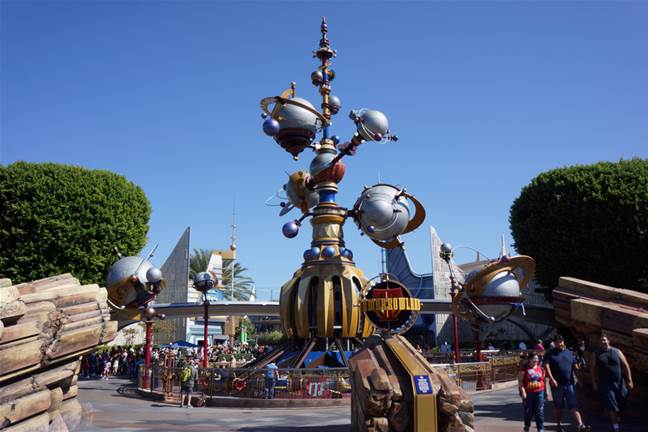 About Tomorrowland at Disneyland:
Always curious and thinking about progress, Walt Disney created Tomorrowland as a window to the future, a place to educate and inspire guests. Tomorrowland opened as one of five original lands at Disneyland park on July 17, 1955, and has had more attractions than any other area in the park.
Today, Tomorrowland is home to attractions such as Space Mountain, a thrilling high-speed journey through outer space; Star Tours: The Adventures Continue, a 3-D motion simulated space flight with more than 50 different story combinations, and Buzz Lightyear Astro Blasters, an interactive adventure through the world of Buzz Lightyear. Tomorrowland Theater occasionally offers movie previews, and guests will see a sneak peek of "Tomorrowland" with special in-theater effects beginning in mid-April.
If you want to follow along while we are there, be sure to follow me on Twitter, Facebook, and Instagram where I will be sharing about all my experience there using the hashtag #tomorrowlandevent.
Check out this trailer
Check out the trailer for the movie and let me know what you think! I cannot wait to see it!
Like TOMORROWLAND on Facebook: https://www.facebook.com/DisneyTomorrowland
 Follow Disney Pictures on Twitter: https://twitter.com/DisneyPictures
Visit the official TOMORROWLAND website: www.Disney.com/Tomorrowland
 TOMORROWLAND opens in theaters everywhere on May 22nd!