In just 4 days, the old Irish holiday will be here. What foods will you be making? I have never had much of anything Irish, so I am thinking of trying my hand at a corned beef recipe or even attempting to create a delicious Irish pub recipe. In any circumstance, I will definitely be serving this Irish Soda Bread alongside whatever I decide to fix.
Looking for more easy recipes? Check out my huge database of delicious, homemade goodies.
This bread is so unbelievably moist and sweet, and oh-so delicious!
Irish Soda Bread- A St. Patrick's Day Recipe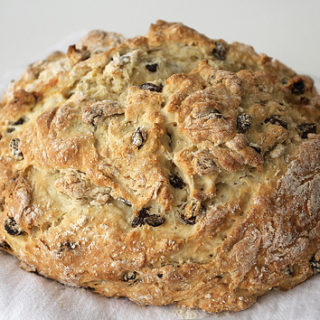 Ingredients
4 to 4 1/2 cups flour
2 Tbsp sugar
1 teaspoon salt
1 teaspoon baking soda
4 Tbsp butter, cubed
1 cup raisins
1 large egg, lightly beaten
1 3/4 cups buttermilk
Instructions
Preheat the oven to 425 degrees.
Whisk together the 4 cups of flour, sugar, salt, and baking soda in a large mixing bowl.
Using a pastry cutter, work the butter into the flour, mixing until it resembles a coarse meal
Gently stir in the raisins.
Make a well in the center of the flour mixture. Pour the beaten egg and buttermilk into the well, and combine with a wooden spoon until the dough is too stiff to stir.
Dust your hands with flour, then gently knead the dough- just enough to form a rough ball.
If the dough is too sticky to work with, add in a little more flour.
NOTE: Do not over-knead! Your bread could become tough if you over-work it.
The dough will be a little sticky, like biscuit dough.
Transfer the dough to a floured baking sheet or a baking stone (unfloured) and shape into a round loaf. Using a serrated knife, score top of dough about an inch and a half deep in an "X" shape.
Bake until the bread is golden and the bottom sounds hollow when tapped, about 35-45 minutes. Check for doneness by inserting a long, wooden skewer into the center of the loaf. If it comes out clean, it's done.
To keep your bread from getting too dark, be sure and tent it during the last 10 minutes of cooking.
Serve your bread warm with a healthy size portion of corn beef and roasted veggies.
What will you be fixing for St. Patrick's Day this year?