This shop has been compensated by Collective Bias, Inc. and its advertiser. All opinions and this recipe for Jalapeno Cheese Covered Sausage Dogs are mine alone. #WildSideOfFlavor #CollectiveBias
One of my favorite things IN the world to do is make my own homemade cheese sauce. It is SO easy and you can bump up the flavors any way you want. Today, I am going to show you how to make it step by step. I used it to top these amazing Jack Link's Wild Sausages I picked up at Walmart.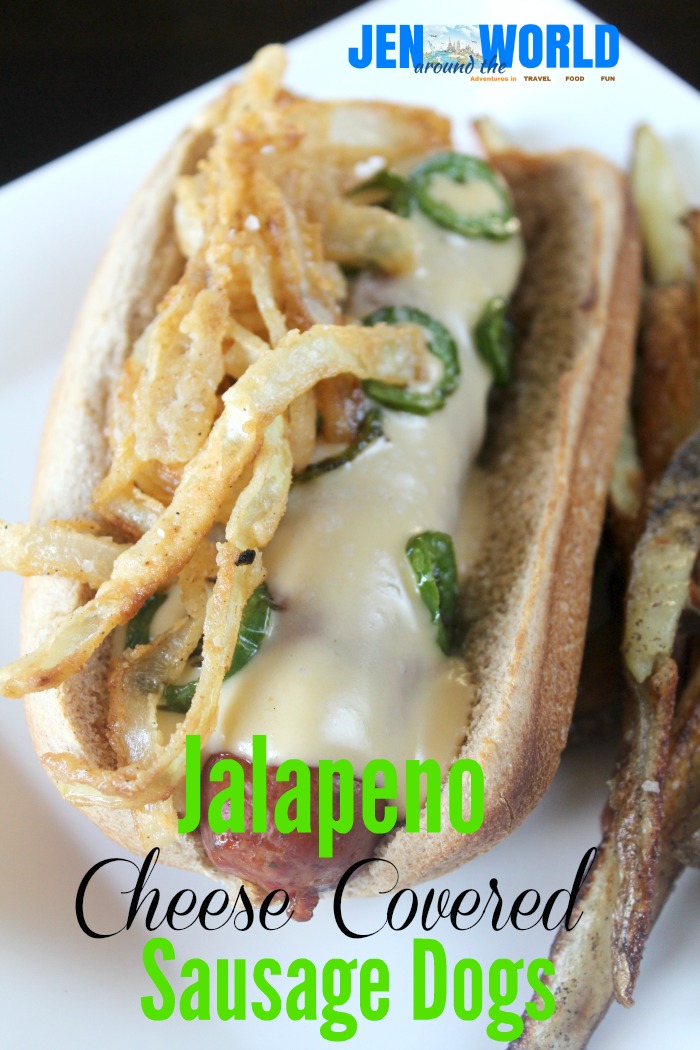 These sausages are already so bold in flavor, but when you add in tasty additions like homemade cheese sauce, fried jalapenos, and crispy onion strings, then you sausage dog goes WAY over the top!
How to Make Jalapeno Cheese Covered Sausage Dogs
So — to make the cheese sauce, you need to start with shredding a block of colby jack cheese.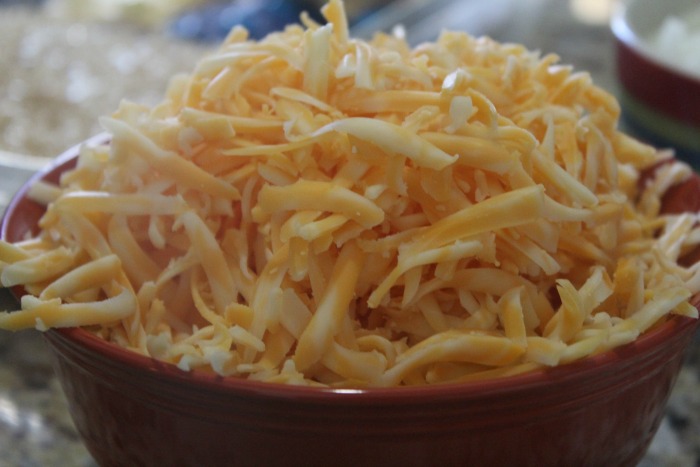 Please — do not buy pre-shredded cheese when you are making homemade cheese sauce. The pre-shredded cheese has some kind of coating on it to prevent it from clumping. The block does not have this. So choose the block and grate it yourself.
Once you get your cheese grated, take 1 tablespoon of butter and 1 tablespoon of all purpose flour and place in a sauce pot on the stove. Turn it to medium high heat.
Allow the flour to cook for a minute or two. This will allow that flavor to get cooked out and what you have left is a roux.
Then you are going to add about 1 cup of milk to the roux. Stir to remove all clumps.
You will keep stirring this until it gets thick. If your mixture starts getting too thick, keep adding milk until you get a creamy consistency that is easily pourable — meaning, when you put your whisk in it, it should drip off the end of it.
Now — add in your shredded cheese.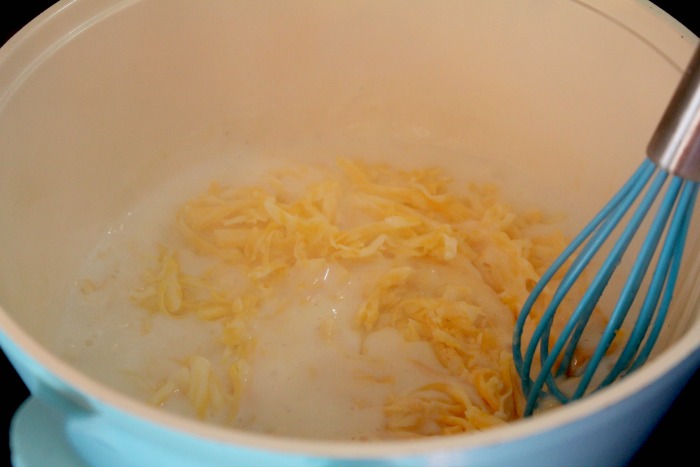 Remove from the heat and stir in until all the cheese is melted. Sprinkle in some salt and pepper to taste until you get this creamy and delicious consistency that looks like cheese sauce.
Keep warm while you cook your bold sausages!
Cooking the Jack Link's Wild Sausages
While I was at Walmart the other day, I picked up these gorgeous bold flavor sausages. I found them right beside where you find the hot dogs, keilbasas, and lunch meat.
Right now, through Memorial Day they are on rollback for $3.48, which make them super affordable for a yummy dinner at home.
I bought the Jalapeno and the cheddar flavor, but they also have the original flavor, which they were out of.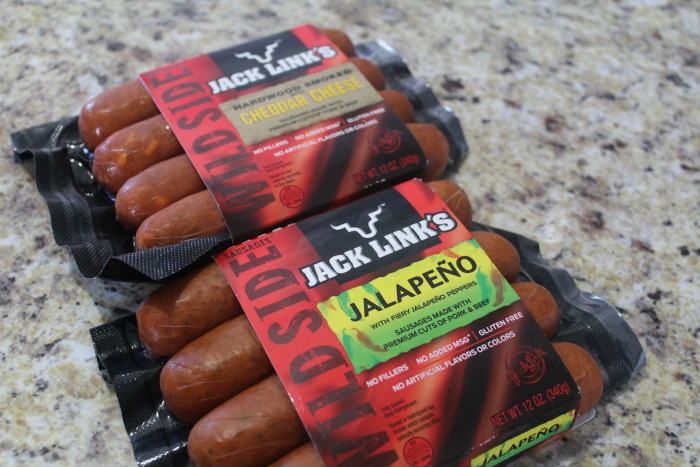 Cooking these are really super easy. You can grill them, bake them, or microwave them. I chose to bake them.
You simply take them out of the package and place on the pan, preheat the oven to 450 degrees and cook for about 8-10 minutes per side.
I cut up some potatoes into match sticks to make homemade french fries as well. I mean, since the oven is already on and I am having these delicious bold flavors on my plate, why not throw some fries in the oven too, right?
Once the sausages are done, brown your hot dog buns. I bought whole wheat buns because we are trying to eat a little healthier — and that is the good thing about the Jack Link's Wild sausages — they are all high in protein, gluten free, with no fillers and NO MSG!
Now you take your bold flavor sausage dog and put it on the bun, then top it with that creamy cheese sauce you made.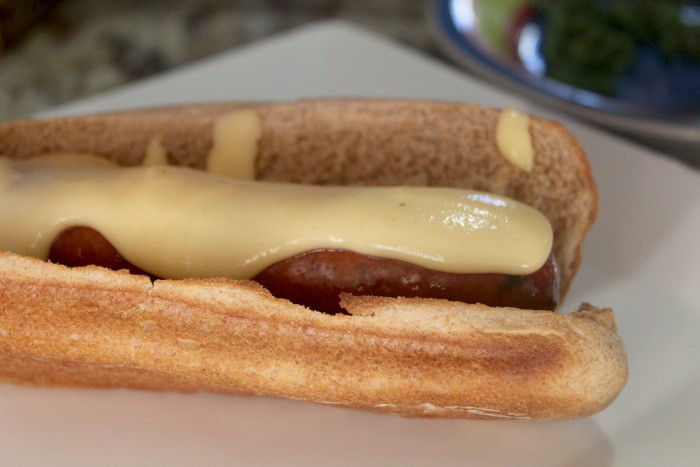 Then I sliced up a jalapeno and fried the slices in some oil to make them crispy. We topped the cheese sauce with those.
Then to top it off, we made some homemade crispy onion straws (you can get that recipe by clicking here) and served it with homemade french fries for a BOLD and delicious dinner!
Jalapeno Cheese Covered Sausage Dogs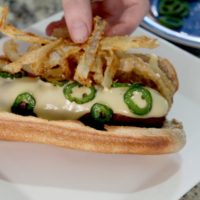 Ingredients
Cheese Sauce
2 tbsp flour
2 tbsp butter
1 cup of milk
1 1/2 cups of colby or cheddar jack cheese, shredded
salt and pepper to taste
Other ingredients
Crispy Onion straws, recipe linked in post
Jack Link's Wild Sausages, your favorite flavor
Fried Jalapeno Slices
Hot dog buns
Instructions
To make the cheese sauce
Melt butter in a saucepan over medium heat; whisk flour into butter until smooth.
Pour milk into butter mixture and stir with a wooden spoon to combine. Cook and stir until mixture thickens, about 3 minutes.
Add cheese and stir until cheese is melted, about 3 minutes more. Season with salt and pepper.
For the Jack Link's Wild Sausages
Bake in the oven on 450 degrees for 8-10 minutes per side.
Top dogs with cheese sauce, jalapeno slices, and crispy onion straws
Enjoy!
These sausages are so good on their own, or you can use them in a recipe with pasta or something like that. The best part is that they are made with premium cuts of beef or pork, so you know with every bite, you are eating some mouthwatering and delicious.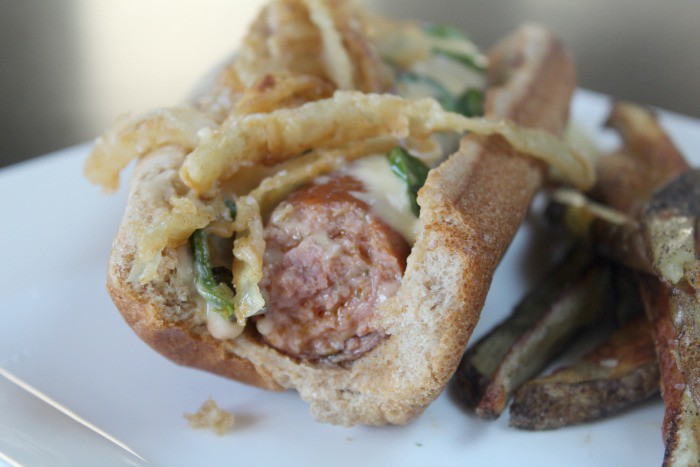 Now that you know how I like to live on the wild side a bit, what about you? Which flavor of these bold wild sausages would you be brave enough to try?