What flavors are your favorite when you make a burger? Mine used to just be mustard, pickle, and onions — until I went to a local restaurant and had what they call an "arson burger". What this burger involved was delicious grilled onions, jalapenos grilled and roasted and added to the top — and pepper jack cheese. Then you slather it with mustard — it is seriously one of the best burgers I have ever had. So I decided to take on this burger and see if I could create one myself. Let me introduce you to my Jalapeno and Pepper Jack Cheeseburger.
Jalapeno and Pepper Jack CheeseBurger #15minutesuppers
Ingredients
1 pound of ground chuck
1 4 ounce can of diced jalapenos
4 slices of pepper jack cheese
buns of your choice
Instructions
Pat out hamburger patties and then take your thumb and press down in the center. This will allow your burger to cook evenly.
Season your burgers with salt and pepper.
Heat an iron skillet on medium high heat. Add your burgers to the skillet and cover with a lid and cook each side about 6 minutes or until they are done to your perfection.
Heat oven to broil. Take your skillet and add the cheese to the top of the burgers and sprinkle on the diced jalapenos. Place under the broiler until the cheese melts.
Slather mustard on your sandwich thins and then top with a burger patty. Enjoy!
Need more quick 15 minute recipe ideas? Check out these other great #15MinuteSuppers!
Follow 15 Minute Suppers on Facebook | Twitter | Instagram | Pinterest
and look for the #15MinuteSuppers hashtag too!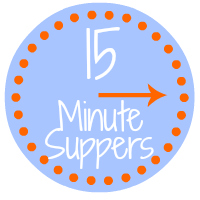 BLOGGERS: Would you like to join us at #15MinuteSuppers? We'd love to have you! Please check out the 15 Minute Suppers website or ask to join the Facebook group (for bloggers) to participate on Fridays…we'd love to have you join us.