It's a new year and a new list of books that I am planning on reading this year. My January 2019 reading list has just a few books this time around. I've decided that for 2019, I will not be reviewing books as often and I want to focus on reading for pleasure this year.
I have started my Goodreads reading challenge and set my goal at only 50 books this year. Yes — I know that is a small amount, but I am working on setting obtainable goals as well as really enjoying each book I read instead of reading through them so fast that I don't have time to really soak in the novel.
Here are the 5 books I'm going to try to get through this month.
January 2019 Reading List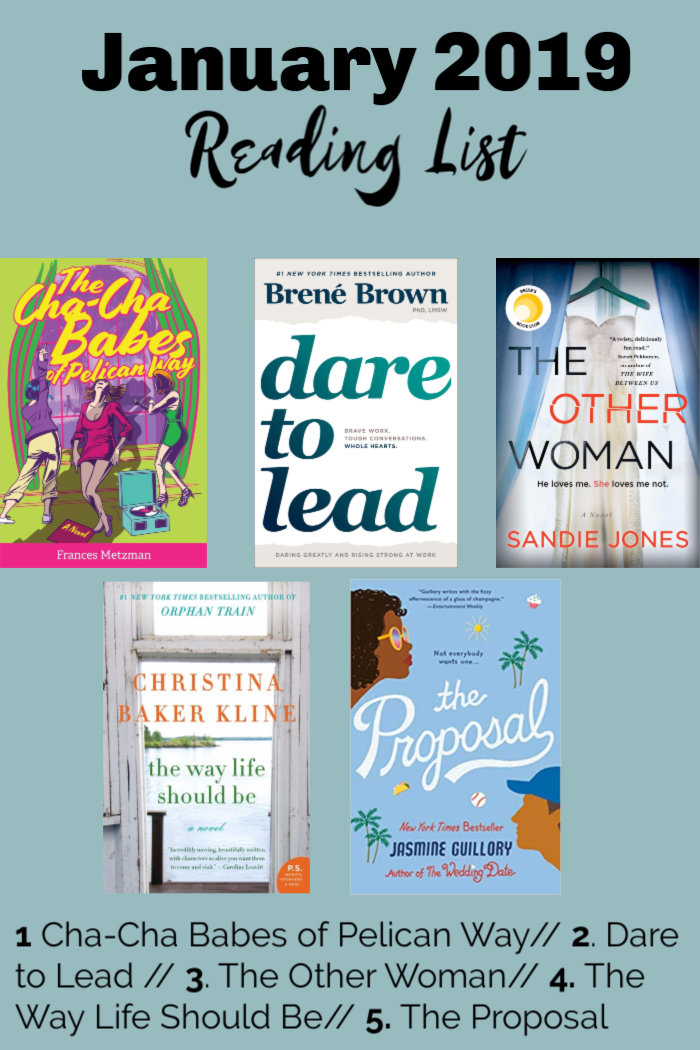 1.Cha-Cha Babes of Pelican Way
I had someone send me this book last year sometime and it has just been laying on my shelf. This is my current read and I love it! It honestly reminds me of the Golden Girls. It is funny and witty and it has a suspenseful plot with a humorous twist.
2. Dare to Lead
I am a huge Brene Brown fan (and have been ever since I heard her speak at Mom 2.0). She is one of the best speakers I have ever heard and every book I have read of hers is filled with great information that you can apply to business and personal life.
I heard about this book from another author who recommended it last month. I bought it during December and it has just been sitting idle in my Kindle. It sounds like a great read.
This book was a freebie on Amazon in November, so I snatched it up because of the reviews on it. I love a book that has some meat behind the story and this one sounds like it fits the bill.
5. The Proposal
This book was just recently published and everyone who has read it says it is great. I mean, it's a New York Times Best Seller so it has to be good right?
That's it. These are the books I plan on reading this month. I actually own all of these and will work at cleaning out my Kindle (there are so many books on there!)
Hopefully, I get through them all. Every evening I am making time for reading, so I hope that helps me to be more strategic about getting all of these read by the end of the month.
What are you reading this month?