Today is BEHIND THE CURTAIN DESSERT CHALLENGE  REVEAL DAY! For this month's reveal, our challenge was to make a dessert using almond paste and pastry of some sort. I chose to make Lemon and Almond Cupcakes.
Looking for more easy recipes? Check out my huge database of delicious, homemade goodies.
What is the Behind the Curtain Dessert Challenge?
Every month we are assigned two ingredients (this month it was Almond Paste and Pastry)  we are to take those two ingredients and create or find a recipe using the chosen ingredients.
Does this sound like fun to you?  Need more traffic to your website or want to meet new friends?  Then this is the party for you!  THIS IS A BLOG HOP so EVERYONE gets to be the host.  HERE is more information on how it works.
Back to my yummy recipe 🙂
These cupcakes turned out SO good. I had never baked with almond paste before, but I now know, I will be baking with this substance a lot more in the coming months.
Lemon and Almond Cupcakes- Behind the Curtain Dessert Challenge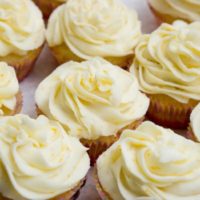 Ingredients
1-7 oz box Almond Paste, grated
1 cup sugar
3 eggs, room temperature
1 cup plain yogurt
1/4 cup canola oil
2 tablespoons fresh lemon juice, 2-3 large lemons
2 teaspoons grated lemon rind, only yellow part
1 1/2 cups all-purpose flour
1 tablespoon baking powder
2 cups of powdered sugar
1 stick of butter, room temperature
2 teaspoons of milk
Instructions
Preheat oven to 350°F. Place cupcake liners in muffins tins.
In mixing bowl, mix Almond Paste and sugar until the texture of small crumbs. Add eggs one at a time beating well between each. Add yogurt, oil, lemon juice and rind. Beat until well combined.
Sift flour and baking powder into almond mixture. Beat until mixed, scraping the bottom and sides of bowl. Spoon batter into liners, a bit more than 1/2 full.
Bake cupcakes in center of oven, 20-25 minutes or until tops are nicely rounded and toothpick inserted in middle comes out clean. Start testing at 20 minutes. Cool tins on wire racks for 5 minutes.
Then, transfer cupcakes to wire rack and cool completely.
To make icing, mix together powdered sugar, butter, and milk. If you want a thicker icing, add more powdered sugar. For a thinner icing, add more milk.
See what other bloggers are making
Here are the other bloggers in the challenge. Check out their almond paste and pastry desserts
Powered by Linky Tools
Click here to enter your link and view this Linky Tools list…