Of all the berries in the world, I like raspberries the least. I am not much of a fruit fan in general. I force myself to eat an apple or two a day or have a glass of lemonade but I can't really say I enjoy it. And still, raspberries hit the bottom of my fruit list.
However, I have found a way to consume fruits on a daily basis and enjoy them. I started incorporating them in my pancake recipes.
I know, you'll probably say "But pancakes will make you fat." Not if you consume them in moderation. And also, every pancake recipe can be made a bit better for you if you just replace white refined flour for a whole wheat one and ditch the sugar. Instead, use a natural sweetener like stevia, pure honey, or maple syrup.
Why Are Raspberries Perfect to Add to Your Pancake Recipes?
The same reason I hate raspberries so much, their natural tanginess, is precisely what makes them perfect for my pancake recipe. I love their tartness mixed with the flapjacks' sweetness.
But besides great taste, these red berries offer a great deal of nutrients. The main 'culprit' are the phytochemicals present in the fruit, which give the vibrant color but also take care of your overall health:
They reduce the risk of heart disease;
Facilitate weight loss;
Help manage diabetes;
Relieve arthritis pain;
Prevent certain types of cancer;
Slow down ageing.
Raspberry Pancake Recipes
Don't limit yourself to a simple addition of fresh or frozen raspberries into the batter of your classic American pancake recipe. Think outside the box and make a raspberry sauce! This sauce can be included in the form of a swirl in your pancake recipe or used as a topping.
How to Make the Best Raspberry Pancakes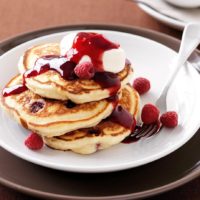 Ingredients
For the Sauce
1 cup raspberries
1/2 cup sugar, or if using Stevia use 1/8 cup
For the Pancakes
1 1/2 cups all-purpose flour
3 1/2 teaspoons baking powder
1 teaspoon salt
1 tablespoon white sugar
1 1/4 cups milk
1 egg
3 tablespoons butter, melted
Instructions
For the Sauce
Combine the berries and sugar in a saucepan. Bring to a boil, then reduce the heat and cook for about 5 minutes, stirring frequently, until thick.
Place the sauce into a pastry bag.
For the pancakes
Mix together pancake ingredients in a large mixing bowl. Heat your griddle or frying pan then pour batter on the heated griddle.
Pipe a raspberry swirl into the middle of the pancake. Let it cool for a few seconds until the side is brown. Then flip for a few seconds on the other.
Top with extra raspberry sauce, butter, or whipped cream.
Vegan or Gluten Free Sauce --
Alternatively, you can make a vegan and gluten-free raspberry syrup.
Process 2 cups of raspberries in a blender. Once they have turned into liquid, pour them through a fine sieve into a saucepan. Use a spatula or tablespoon to help the liquid pass through. Add water, sugar and cornstarch. Bring the mixture to a boil and simmer for about 3 minutes, stirring and scraping the bottom frequently so that it doesn't burn.
Raspberries make great pair with many different ingredients in pancakes. Here are some suggestions:
Lemon & poppy seeds
Lemon & ricotta cheese
White chocolate chips
Chocolate chips, cocoa powder or chocolate glaze
Coconut flakes
Peanut butter
Enjoy!