This shop has been compensated by Collective Bias, Inc. and its advertiser. All opinions are mine alone. #FreeOfSulfates #CollectiveBias
My daughter is an artist and one of her favorite things to do is for us to craft together. I don't have a crafty bone in my body, or so I thought, but then I came up with this adorable and functional DIY Laundry Sign that anyone can make – seriously, if I can make it so can you.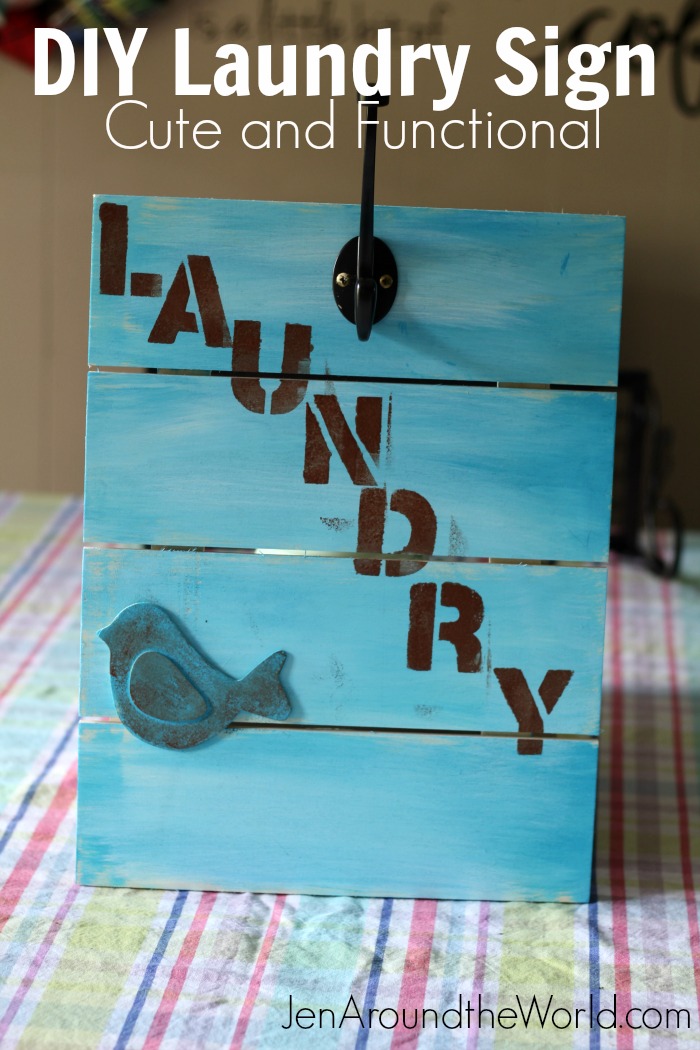 I am always looking for something cute and functional that I can use in the laundry room to hang my clothes on while I am folding things (anyone else hate this job as much as me?)
I like a little bit of beauty in with my laundry folding, so while I was at Walmart the other day getting some laundry detergent, I hit the craft aisle to see what I could come up with.
Before I tell you about my awesome craft I made, let me tell you about the amazing deal I found on all® fresh clean ESSENTIALS® . For starters, you can get a .50 off coupon by clicking here. This offer is only available while supplies last, so be sure and grab one while there is one to grab!
I hit up the laundry aisle looking for something new for our family. We are looking to use more products that are not only better for our environment, but better for us as a whole.
When I discovered that all® fresh clean ESSENTIALS® is sulfate free which means it is better for your skin, I knew I would be giving it a try because it is exactly what I was looking for. Sulfate free all® delivers a powerful clean without the harshness. And on top of that, the sulfate-free formula infuses fabrics with essential, proven and effective ingredients for deep cleaning and stain lifting even on the toughest stains.
The product can be found on the laundry aisle, and it is usually on the top shelf or just a shelf below.
Not only do they have sulfate free laundry detergent, but did you know that there is a sulfate free shampoo and conditioner?
AVEENO PURE RENEWAL® Shampoo and Conditioner contains naturally derived cleansers and a sulfate free formula to gently cleanse your hair and scalp.  Choosing sulfate free products is important to me because I like knowing what goes in and on my body.
You can find this at Walmart on the hair care aisle.
Now on to my tutorial!
How to Make a DIY Laundry Sign
For starters, you need a wood plaque, your favorite paint colors, a little wooden accessory, stencils for lettering (if you are like me and are bad at free handing it) and a coat rack hanger.
You are going to start by painting the wood plaque. I picked it up in the craft section at Walmart.
I decided to paint my plaque blue and white. You put your two colors on a plate and YOU DON'T MIX THEM.
You dab your paintbrush in both colors without swirling or mixing them and then begin to brush it on your wood. The strokes of the blush will make it blend a little so you wind up with several colors of blue.
If the blue happens to be too dark for you, come back with a bit of white and it will lighten it up as you brush it on.
Set it aside and let it dry.
Then, you are going to take your stencils and lay them out how you want your wording to be on the wood plaque.
Then you are going to take a darker color and use that for your letters. I chose dark brown as blues and browns are my two favorite colors to go together.
Then just use a small sponge to color in the letters as you want them on the plaque.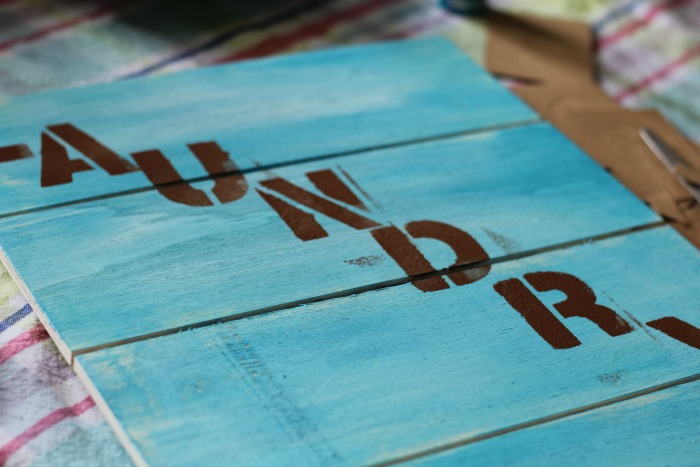 For the complete perfect touch, you can add embellishments like other wooden accessories, silk flowers, etc. I chose this cute bird because I love birds.
Then when you are done with that, simply add in a coat hook at the top. This leaves you a place to hang all your clothes as you fold.
When you live a small home like I do, every space counts!
Knowing that I can make things like this and spend some quality time hanging out with my daughter means everything to me.
You know what else means everything to me? Providing a healthy and safe environment for me and my loved ones – which is what I get when I buy Sulfate Free Products Like all® fresh clean ESSENTIALS®  and AVEENO PURE RENEWAL® Shampoo and Conditioner.
I never have to worry about what is in either one because all the ingredients are listed on the back of the bottle, making it worry free for me. I can provide a clean environment for my sweet and loving family.
Head out to your local Walmart today and start providing a clean environment for your loved ones. Be sure and snag a coupon for all® by clicking here and for AVEENO® by clicking here.