My daughter is all about the pumpkin spice everything the minute summer is over. She recently made these delicious pumpkin spice truffles that are out of this world.
How to Make Pumpkin Spice Truffles
Ingredients
Filling
2 ounces cream cheese, softened to room temperature
2 Tablespoons confectioners' sugar
1/3 cup pumpkin puree
1 and 3/4 cups graham cracker crumbs
1/2 teaspoon pumpkin pie spice, we used a homemade blend
1/2 teaspoon ground cinnamon
4 ounces white chocolate, coarsely chopped and melted
Topping
Sprinkled on Pumpkin Spice Blend
Instructions
With a stand mixer fitted with a paddle attachment, beat the cream cheese and sugar together in a large bowl until creamy - about 2 minutes.
Add the pumpkin and beat on high until combined. Add the graham cracker crumbs, pumpkin pie spice, cinnamon, and melted chocolate.
Beat on medium speed for 2 minutes until everything is combined. Your mixture should be thick at this point.
Cover mixture tightly and refrigerate for 1 hour or up to 24 hours. Please do not skip this step.
Line two large baking sheets with parchment paper or silicone baking mats. Set aside.
Roll into balls (I use a cookie scoop to get the perfect size) and place the balls on the baking sheets. Chill balls in the refrigerator for 30 minutes or up to 24 hours.
During the last few minutes of the chilling time, begin melting the chocolate. In the microwave, place the chocolate in a medium heat-proof bowl. Melt in 30 second increments in the microwave, stirring after each increment until completely melted and smooth.
Let the warm chocolate sit for 5 minutes to slightly cool before dipping.
Remove balls from the refrigerator and dip them in the white chocolate using a fork. When lifting the truffle out of the chocolate, remember to tap the fork gently on the side of the bowl to allow excess chocolate to drip off.
Top truffles with a sprinkle of homemade pumpkin pie mix, if desired.
Place balls back onto the baking sheet after you dip each one. Allow chocolate to completely set in the refrigerator before serving.
Serve at room temperature or right out of the refrigerator.
If you love pumpkin flavored dishes or treats, this is definitely one you are going to want to make.
This recipe is adapted from Sally's Baking Addition.
Making your own pumpkin pie spice mix is simple and easy and really makes your pumpkin spice truffles look gorgeous.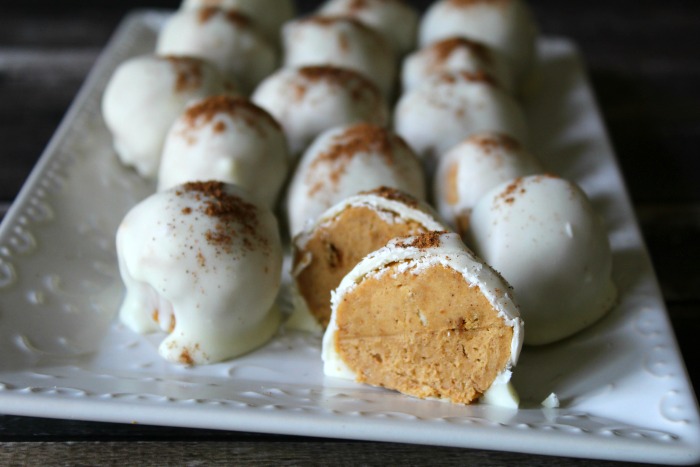 To make your own, mix together
3 Tablespoons Ground Cinnamon
2 teaspoons Ground Ginger
2 teaspoons Nutmeg
1-1/2 teaspoon Ground Allspice
1-1/2 teaspoon Ground Cloves
and the store in an airtight container in your cabinet and use it when you need a little pumpkin pie spice.