I love Mexican food. One of my favorite dishes when I go out to eat is Mexican Pizza. I decided to try my hand at making my own version of it for our #15MinuteSuppers Friday roundup.
Mexican Pizza #15MinuteSuppers
Ingredients
1 pound lean ground beef
1 1 ounce packet taco seasoning
1/2 cup water
6 medium-size flour tortillas
1 16 ounce can refried beans
1 16 ounce can red enchilada sauce
1 cup shredded cheddar cheese
1 to mato, diced
1 green onion, diced
Instructions
Preheat oven to broil. Take a baking sheet and spray it with non-stick spray. Place 2 tortillas on the baking sheet. Place in the oven and broil for 1-2 minutes. Carefully flip tortillas over while they're still in the oven and then broil another minute to crisp on the other side. You want tortillas a slight golden color and crispy. Remove from oven and set aside.
Meanwhile, cook the ground beef in a large skillet over medium-high heat. Drain grease. Add taco seasoning and water. Bring mixture to a boil, then reduce heat to medium. Stir and simmer for 6-8 minutes. Remove from heat.
In a microwave-safe bowl, heat the refried beans until warmed through. Spread a thin layer of beans on one tortilla. Top with 1/3 of the meat mixture. Place another tortilla on top of the meat. Spread 3 Tablespoons of enchilada sauce on top of the top tortilla. Sprinkle with some cheddar cheese. Add a few dices of tomato and green onion.
Place pizzas on the baking sheet and broil for 1 minute, or until cheese is melted and bubbly. Remove from oven and let stand for a minute before slicing.
Need more quick 15 minute recipe ideas? Check out these other great #15MinuteSuppers!
Follow 15 Minute Suppers on Facebook | Twitter | Instagram | Pinterest
and look for the #15MinuteSuppers hashtag too!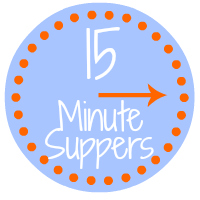 BLOGGERS: Would you like to join us at #15MinuteSuppers? We'd love to have you! Please check out the 15 Minute Suppers website or ask to join the Facebook group (for bloggers) to participate on Fridays…we'd love to have you join us.