I am part of the Netflix Stream Team. All opinions listed are 100% my own.
I don't know about you, but sometimes all the hoopla about back to school gives me the heebie jeebies. New bedtimes, homework, schoolwork, and more and it just keeps getting deeper and deeper the longer the school year goes on.
In our home, we have a fun routine that my daughter and I do. She is in her senior year of homeschooling — which is the hardest year for her, but my awesome little trick helps her unwind after a long day of studying.
After a long work day for me and a very studious day for her, we grab cups of coffee, popcorn, snacks, and find a fun movie to watch on Netflix. This is our way of unwinding for the day.
If your child is like my daughter, your brain needs to detox from all those nouns, verbs, and math problems and the best way to do that is by enjoying something they love to watch.
As a little girl, I can remember rushing home from a long day of school, busting through the door and throwing my school books down. My mom would already have a huge bowl of popcorn made and we would lay in the floor and watch the Munsters, the Flintsones, and the Jetsons as well as the Brady Bunch (yes — I am showing my age).
Why not surprise your child with a fun afternoon like this? Not only are you helping them to wind down, but you are also providing an opportunity to spend some quality time together.
Here is my delicious and easy recipe for DIY Homemade Microwave popcorn using a brown paper bag.
DIY Microwave Popcorn - Perfect for Back to School Movie Days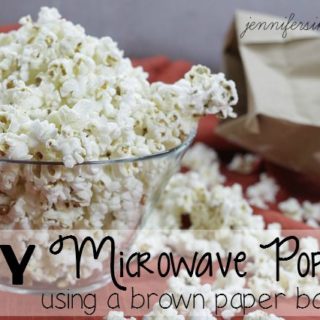 Ingredients
1/2 cup of popcorn kernels
1/2 teaspoon vegetable oil
salt
brown paper bag
Instructions
Start by tossing 1/2 cup of popcorn kernels with 1/2 teaspoon oil (I used a neutral vegetable oil) and salt.
Then dump the popcorn into a brown paper lunch bag.
Fold the bag top down and folding the corners down and tearing little tabs, then folding those tabs over. This prevents the bags from unraveling as the popcorn expands.
Pop it in the microwave and run it for about 2 minutes, though the exact time will depend on your microwave.
Remove and throw in a bowl with salt, butter, and if you are adventurous like me, some rosemary and Parmesan Cheese
Here are some shows you might find interesting on Netflix right now.
For the older kids
For older kids, put a fun spin on the stuff they're dreading — math homework, spelling tests, science reports — the brand new Project Mc² Netflix Original Series, premiering on Aug. 7 proves smart is the hottest BTS trend. The show features four supercool teen spies who show how girls can use their science smarts and math problem-solving skills to save the world. Total #SmartGirl inspo! Catch a first look here.
And the offspring of favorite fairytale characters in Ever After High's new Way Too Wonderland adventure (debuting Aug. 14) empower kids to write their own life stories. Whether Royal or Rebel, your actions, behaviors and choices are your own to make.
For the little kids
Get the little ones ready for new experiences with shows like the Netflix original Dinotrux from DreamWorks, premiering Aug. 14 — prehistoric hybrid dinosaur-construction vehicles team-up to use their different skills to solve problems and show that even the most uncommon of duos, like Ty-Rux and Revvit, can form friendships of a lifetime.
They can also go anywhere and be anything by letting their imaginations soar on a Reading Rainbow journey, now available to stream.
| | | | | |
| --- | --- | --- | --- | --- |
| | | | | The Cat in the Hat Knows a Lot About That! |
What is your favorite way to watch movies with your kids?